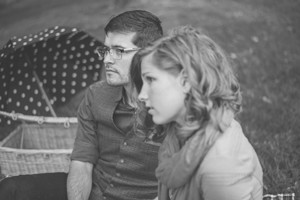 Sometimes it's easy to forget that the artists we appreciate here at CCM Magazine are also fans as well. It made us curious about the tastes and habits of various artists, so we decided to launch a series, The Last Time, to find out some answers. The Gray Havens are a husband-wife duo whose new album, Ghost Of A King, is so good you'll pledge vows of your own to their music. We recently asked Dave Radford to let us in with questions about his listening and viewing habits.
The last album you purchased?
Cindy Morgan's Bows And Arrows
The last concert you paid to attend?
Josh Garrels in Nashville in 2014
The last TV show you binged watched?
Downton Abbey
The last book you finished?
The Lord of the Rings: The Return of the King
The last time you were surprisingly moved by a piece of music?
The Oh Hellos – "This Will End" (around 1:40 to the end)
The last great movie you watched?

Star Wars: The Force Awakens
The last time you laughed uncontrollably?
Playing Settlers Of Catan with friends
The last memorable exchange with a fan of your music?
We played a show in El Paso, TX in December for a holiday party. The manager of the company, a car dealership, was giving out these valuable gold coins to those in the company that were contributing most. I totally unexpectedly received the final coin for the music that had meant so much to him throughout the year. It was a great honor.