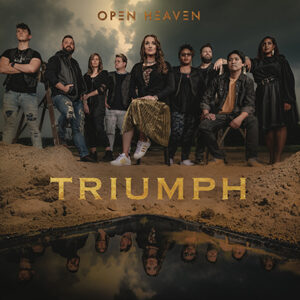 Los Angeles, CA (November 11, 2020)
Dream Worship group Open Heaven has released its new album, Triumph. The Columbus, OH worship team for Faith Life Church releases a 10-track album that mixes pop, Gospel and worship together to make a beautiful sounding track. "Focused On You" and "On That Day" highlight the album with incredibly hopeful lyrics and energetic vocals. Scotty Mearig (New Hope Oahu) and Grant Cavaness produced the album. The team shares what it was like making the album during such a tough season in 2020.
In the very beginning of this year we sat down as a songwriting team and felt that God was telling us to write about resurrection and breakthrough. Little did we know that we would need to hold on to that promise so tightly in the coming weeks and months. He leads us in triumph. Always. Every single time. Without fail. In all confidence.
When all hell breaks loose, it's a setup for a triumph. When it feels like there is a barrier, and we are held in bondage, it's a setup for a breakthrough! When it looks like there's been a death, it's a setup for a resurrection! Based on 2 Corinthians 2:14, we pray this entire project brings the power of God unto your everyday life and reminds you of who you are and Whose you are.
Stream: