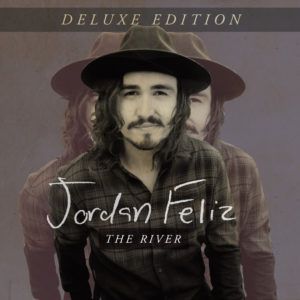 Nashville, Tenn.—Dove Award winning artist, Jordan Feliz, will release The River Deluxe Edition on June 9, 2017. The project will feature 16 songs that includes such chart toppers as "The River," "Beloved," "Never Too Far Gone," along with five remix bonus tracks. The album was produced Joshua Silverberg (Michael W. Smith, Newsboys) and Colby Wedgeworth (Lincoln Brewster, Tenth Avenue North).
"Everyone at Centricity is so excited to have fans hear Jordan's new interpretations of his songs," said John Stokes, Senior Director of Sales and Marketing, Centricity Music. "There's a wide variety of sounds on the expanded project, and some surprises that include guest artists. It will be an assortment of different things that people won't be expecting."
Feliz's current single, "Beloved," is No. 13 on the Billboard's Christian Airplay chart and No. 8 on the Hot AC/CHR chart. Feliz initially wrote the song for his daughter, Jolie before she was born, ut the single's message applies to music fans everywhere. The talented singer/songwriter shares his thoughts about the song on Instagram, to view, please CLICK HERE.
Feliz recently wrapped up a successful run on the 9th Annual Rock & Worship Roadshow tour. Last week he joined Michael W. Smith's "Revolution Tour," which runs through May. Feliz will continue the summer with a heavy tour schedule that includes the festival circuit, with KTIS Joyful Noise Festival, Fishfest LA, Spirit West Coast Concord, Freedom Fest, and Kingdom Bound Festival, to name a few.