JEREMY CAMP RECEIVES HIS 38TH NO. 1 RADIO SINGLE WITH "SAME POWER";
Set To Headline "The Reason: A Family Christmas Experience" Tour This December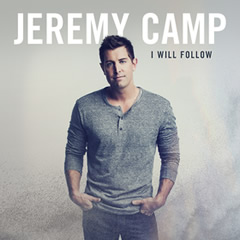 NASHVILLE, Tenn. – GRAMMY®-nominated Jeremy Camp has just received his 38th No. 1 radio single across all radio formats with "Same Power," his 8th No. 1 single on the Billboard charts. "Same Power" is Camp's second straight No. 1 from his latest album, I Will Follow. Released in February, I Will Follow (Capitol CMG) made its debut at No. 1 on Billboard's Christian chart.
"It has been such a blessing being able to do this for so many years," Camp shares. "I am so thankful to get to still be serving the Lord through music."
Beginning December 2, Camp will headline the ten-city tour "The Reason: A Family Christmas Experience" featuring Jamie Grace and speaker Nick Hall. In 2016, Camp will hit the road on Compassion International's 8th annual Rock & Worship Roadshow. Along with Camp, Newsboys, Mandisa, Phil Wickham, Family Force 5 and Audio Adrenaline are set to perform. The tour will kick off February 4 in Springfield, MO and conclude March 20 in Mobile, AL. Tour dates are listed below.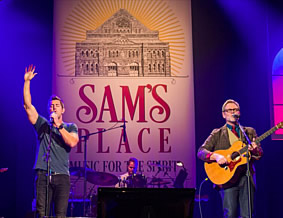 Jeremy Camp helped kick off the second season of "Sam's Place – Music for the Spirit" this past weekend at Nashville's historic Ryman Auditorium and hosted by Steven Curtis Chapman. Camp performed a few of his hit songs, including "Same Power," and joined in a duo with Chapman.
JEREMY CAMP TOUR DATES:
The Reason: A Family Christmas Experience
12/02 – Eau Claire, WI
12/03 – Bellevue, NE
12/04 – Orange City, IA
12/05 – Bismarck, ND
12/06 – Grand Forks, ND
12/09 – Williston, ND
12/10 – Fargo, ND
12/11 – Aberdeen, SD
12/12 – Rochester, MN
12/13 – St. Paul, MN
12/27 – Branson, MO – Branson Convention Center
12/28-31 – Gatlinburg, TN – Gatlinburg Conv. Center
The Rock & Worship Roadshow
2/04 – Springfield, MO
2/05 – Bossier City, LA
2/10 – Chattanooga, TN
2/11 – Southaven, MS
2/12  – **Dallas, TX
2/13 – Cape Girardeau, MO
2/14 – Indianapolis, IN
2/18 – Kent, WA
2/19 – Spokane, WA
2/20 – Boise, ID
2/21 – Portland, OR
2/25 – Sacramento, CA
2/26 – Fresno, CA
2/27 – **Phoenix, AZ
2/28 – Ontario, ON CA
3/03 – Colorado Springs, CO
3/04 – Las Cruces, MN
3/05 – Wichita Falls, TX
3/06 – Lubbock, TX
3/10 – Huntsville, AL
3/11 – Louisville, KY
3/12 – Charlottesville, VA
3/13 – **Baltimore, MD
3/19 – **Houston, TX
3/20 – Mobile, AL
*All dates are subject to change
**Selected cities will have an alternate ticketing structure