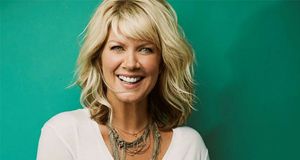 Natalie Grant has a larger platform than ever these days. Her last release, Hurricane, landed at the top of the Christian charts, and the GRAMMY nominated vocalist has built a global following with three million albums sold. On her ninth studio album, Be One, Grant has released a musical set of songs as outstretched as her reach.
From the sparse-inspired arrangement of "Nothing But The Blood," to the club pop vibe of "Never Miss A Beat," Grant's new album holds something for everyone, fans new and old. The title track opens the album with a call for Christians to unite and "be the change" in the world. It's an indelible upbeat number that serves its position well. Meanwhile, "Clean," and "King of the World" are slower ballads that reach deep into familiar themes and make them feel fresh again.
With plenty of pop tunes, worship refrains and showcases for her Dove Award-winning voice, Grant's many fans are likely to make this her biggest commercial success to date.