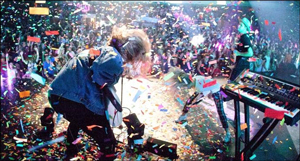 For the uninitiated, Young & Free is the baby in Hillsong Church's musical family, a toddler in musical years steeped in synths and energized with the same worshipful heart as its siblings. Youth Revival is Y&F's first full-length in three years, a spirited live recording that captures the blips and bloops, pulses and praises of an impassioned worship gathering.
Young & Free's electronic brand is straightforward and joyous, a la Röyksopp's catalog or Susanne Sundfør's last album. "Where You Are" and "Falling Into You" are bouncy pop examples. When the mix slows, the youngsters borrow heavily from their older siblings to establish a familiar emotional tone on heartfelt songs like "Trust" and "To My Knees."
Despite a varied instrumental palette, Young & Free is undoubtedly a Hillsong kid. There's no mistaking the members of this family.