Nashville, TN (June 8, 2022)
Dove Award-winning worship leader, songwriter, author and producer of hundreds of songs sung around the world that make Jesus loud, Yancy offers her newest worship resource, Out of This World, available now at digital and streaming outlets as well as at numerous retail stores. Written by Yancy and produced by Stephen Leiweke, the release is the latest music offering for young children from her popular Yancy and Friends, Little Praise Party series, which won her a 2021 Children's Album of the Year GMA Dove Award for Ready Set Go.
Described as a "super-sized" worship resource for home and church, Out of This World features eight all-new songs from Yancy and was created with preschool and early elementary age children in mind.
"It's time to blast off into space and celebrate the 'out of this world' love of God!" exclaims Yancy, as she talks about leading children in worship with this new resource. "We can look around us at the world God made and see some really amazing things, but even more than that, I want to tell kids that 'God loves this world, but He's crazy about you!'"
Known for skillfully creating music filled with the right bite-size piece of lyric, melody and repetition for kids, Yancy is a passionate advocate of raising young disciples to worship, planting 'big truths' based on scripture on the hearts of all who listen and sing along.
Oh, Oh, Oh, God made me
Oh, Oh, Oh, God made you
God loves this world,
But He's crazy 'bout you!
God's love is big, Outrageous
It's out of this world, Amazing! (2xs)
It's OUT OF THIS WORLD
God's love is big
​(Lyrics from "Out of This World")
From the catchy, upbeat title cut to the thoughtful "Coat of Many Colors," which talks about the Biblical story of Joseph, Out of This World and the Yancy and Friends, Little Praise Party is about inviting young hearts to a relationship with Jesus by beginning a foundation of theology through the discipline of worship. Yancy wrote these songs and crafted the arrangements with an intentional focus to this phase of life, creating songs that kids love and adults value.
"I love writing songs that have an educational element to them," shares Yancy. "For example, I am super excited about 'The Opposite Song' that talks about various things that are all opposites of each other. It's such a fun song that I know your kids are gonna love and learn from. The chorus talks about the opposite way of life that Jesus invited us to. I truly believe there is one way, and it is God's way. His way is the best way. This song is a party. I hope that you play it and sing along over and over again!"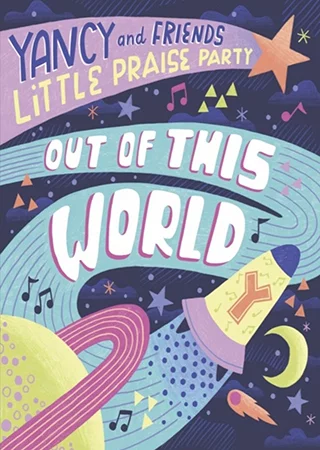 Out of This World track listing:
1. Out of This World
2. Choosing Happy
3. Don't Monkey Around With the Devil
4. Even When
5. The Opposite Song
6. Thunder
7. All the Things
8. Coat of Many Colors
Along with the new music, the Out Of This World Church Resource Bundle offers game-changing worship solutions for church leaders and includes all eight new songs for year round worship plus singalong tracks complete with background vocals. The USB and DVD Bundle also offers cartoon music videos with lyric lines and audio in three formats (full mix, sound track and split track files), lyric sheets, coloring pages, motion tutorials, worship leader trainings, group viewing permission and more.
In addition to the Out of This World music and resource bundle, Yancy just authored her first book, Sweet Sound: The Power of Discipling Kids in Worship, which features a foreword by Kari Jobe. Available now wherever books are sold, Sweet Sound echoes the cry of Yancy's heart and was written to help children's ministry leaders in churches create a rhythm of worship with their kids. Yancy challenges leaders to "STOP just doing songs and START leading worship," while sharing the importance of making disciples who know what it means to praise the Lord in spirit and in truth.
Visit: https://yancyministries.com