Building on its successful "Love Finds You" movie franchise, the original UP Premiere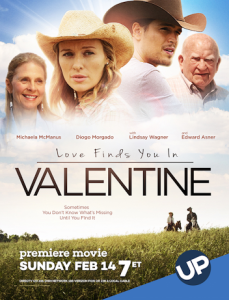 movie Love Finds You In Valentine (#LoveFindsYou), a sweeping romantic drama set in scenic Nebraska, will premiere on Valentine's Day, Sunday, February 14 at 7 p.m. and 9 p.m. EST. Based on the popular book by Irene Brand, the movie stars Diogo Morgado (Son Of God, "The Messengers"), Michaela McManus ("Aquarius," "One Tree Hill"), Lindsay Wagner (The Paper Chase, "The Bionic Woman") and Ed Asner (Up, "The Mary Tyler Moore Show").
In Love Finds You In Valentine, law student Kennedy Blaine (Michaela McManus) inherits a ranch in the small town of Valentine, Nebraska.  She travels to Valentine with the intent of selling the ranch, but is drawn to the area's beauty – and to ranch foreman, Derek Sterling (Diogo Morgado).  Putting her life in L.A. on hold, she decides to spend some time at her ancestral home and, despite a long-standing feud, to reconnect with family members, including a grandfather, Gabriel Morgan (Ed Asner), whom she has never met.  But soon Kennedy is subjected to harassment by someone who clearly wants her to leave Valentine.  Depending on Derek and his mother June's (Lindsay Wagner) assistance, she sets out to discover who is behind the offenses.  But when her search reveals painful details about her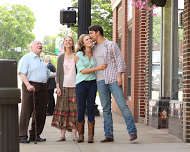 family and raises questions about Derek's own past, will Kennedy still want to know the truth?