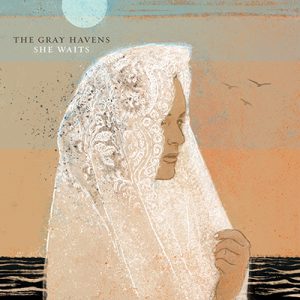 Nashville, TN (October 4, 2018)
The Gray Havens released their fourth studio album, She Waits, through Artist Garden Entertainment on October 5.
Produced by Ben Shive (Colony House, Ellie Holcomb), She Waits, chronicles a band at their apex, stretching their sound in new directions while maintaining the song-craft that so distinguishes them. The new eternity themed album includes songs that take on the structure of story, some epic and metaphorical and others profound in simplicity. The Gray Havens' Dave Radford recalls "One Day I told Licia, I think I want to write a Heaven record" and so began the two year process of writing and recording She Waits. The album turned out to be the most difficult songwriting journey they've ever faced and in the midst of recording, Dave suffered through vocal issues. "Making this record was by far the hardest thing I've ever done creatively. (maybe period)," Dave confesses. Licia Radford added "I feel like God was telling us that it was supposed to be that way, that the challenges were there for a reason. This record was prayed over more than any other because of the struggle."
Dave and Licia Radford continue to push musical boundaries often encountered in Christian music. Experiencing their first Top 10 Christian CHR radio single earlier this year, with the first single from the album, "High Enough," was quite the surprise for the duo. Artist Garden Entertainment's Keith Stancil shares "While we weren't initially targeting radio, I shared the song with a few radio friends and received an overwhelming positive response. Based on the response, we decided to give it a go and I'm so glad we did." Several singles from the album have been featured in top Christian and mainstream playlists on Spotify, Apple Music, Amazon and Pandora exposing The Gray Havens to a much larger audience. "Storehouse," the most recent single from the album, is closing in on 700K Spotify listens in just eight weeks. Stancil adds "It's exhilarating to work with artists who aren't afraid to push musical boundaries. Listeners are resonating with The Gray Havens music and timing feels great for the release of She Waits."
Streaming growth is having a direct impact on The Gray Havens live show attendance generating recent sold out shows in Birmingham and Seattle. Traditionally, they have toured as a duo but the addition of a drummer and a new looping element to their show this fall promises to engage their audience in an even more memorable way. Artist Garden Entertainment's Stancil adds "The increased streaming exposure along with the new elements Dave & Licia are incorporating into their live show are quickly transitioning The Gray Havens into a ticket selling artist. We will be announcing an exciting Spring tour soon!"
Known for their unique blend of narrative-pop, The Gray Havens continue to expand their reach into multiple genres with thought provoking lyrical poetry. The duo has performed alongside such artists as The Oh Hellos, Ben Rector, John Marc McMillan, Andrew Peterson, Drew Holcomb among others.
FALL TOUR DATES
9/30 –   Seattle, WA
10/2 –   Newberg, OR
10/4 –   Franklin, TN
10/5 –   Louisville, KY
10/9 –   Waco, Texas
10/10 – Waco, TX
10/11 –  College Station, TX
10/12 – Houston, TX
10/15 –  Abilene, TX
10/23 – Montreat, NC
11/13 –  Nashville, TN
11/30 – Des Moines, IA