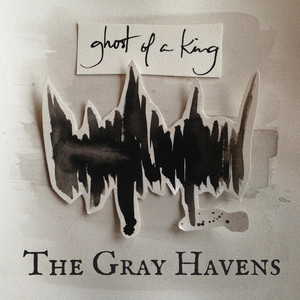 NASHVILLE, Tenn.—Critically acclaimed Artist Garden Entertainment husband/wife duo The Gray Havens are set to bow their highly anticipated full-length sophomore set, Ghost Of A King, April 8, 2016. Featuring ten of the couple's most personal and prolific songs to date, the project is currently available for pre-order on iTunes with two instant-grat tracks.
Exploring the overarching theme of longing, Ghost Of A King was produced by Ben Shive (Colony House, Rend Collective), with "At Last, The King" produced by singer/songwriter Ryan Corn.
"The opener, 'Ghost In The Valley,' sets up the record as the fulfillment of the deepest longing one can have," explains The Gray Havens' David Radford. "The subsequent songs are sub-stories of different longings we have had or have currently, whether that be a longing to do something important with my life, or love my spouse well, or not be caught up in chasing money, or to spend eternity with my friends and family."
Additional highlights of the album—which features Colony House's Will Chapman on drums—include the title track, a Shakespearean-esque narrative chronicling new birth; "Take This Slowly," a reflective reminder of the grace we are given each day; the buoyant, acoustic love song "Band Of Gold"; and the tender, yet epic piano-based closer "Go," depicting a place where "golden shores with lights more radiant than the sun" await.
"We tried to give ourselves permission on this project to reach outside our pop/folk roots when exploring the potential of any given song, which ended up being a ton of fun and made for a record we love," Radford continues. "These songs are all new, just recently written, so they feel very current and representative of where we are in life."
The Gray Havens are slated to showcase selections from Ghost Of A King at various college campuses, conferences and other venues around the country this spring, including performances at Northwestern College in Orange City, Iowa; College of the Ozarks in Hollister, Missouri; and The Gospel Coalition's National Women's Conference in Indianapolis.
David—a Top 20 American Idol finalist from Season 5—and Licia Radford are The Gray Havens. Since the release of their 2013 debut EP, Where Eyes Don't Go, and last year's critically lauded full-length Fire And Stone, the duo has established a loyal following, known for their unique blend of narrative folk/pop encompassing fantasy story, lyric poetry and theology. They have performed alongside such artists as Andrew Peterson, Drew Holcomb, Jenny & Tyler, Sara Groves and Cindy Morgan, among others.