Christian Music Icon Sandi Patty Announces Fall Dates To Her Historic Sold Out 2016 Forever Grateful: The Farewell Tour—TICKETS ON SALE TO PUBLIC MAY 23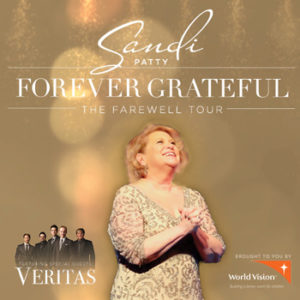 HIGH POINT, N.C.— The Most-Awarded Female Vocalist in Gospel Music History and Christian Music Icon Sandi Patty is announcing the fall dates of her Forever Grateful: The Farewell Tour. After high demand for tickets led to consistently sold-out shows across the country on the spring leg of the tour, 28 more shows are continuing the run of the historic final tour, which picks back up in September in Knoxville, Tenn. Celebrating her latest album, Forever Grateful, and her extraordinary 30+ year career, the tour is sponsored by World Vision with a lineup of special guests including Veritas and members of Sandi's family. Tickets for the Forever Grateful Fall Tour go on sale to the public Monday, May 23, 2016.
Following the fall dates and her Christmas Blessings Tour this holiday season, Sandi will bring the Forever Grateful Tour to the west coast and northwest in early 2017. The Tour will conclude its 100+ city run on the Forever Grateful Farewell Cruise from March 11-18, 2017, which will host the final Forever Grateful Tour performance live from San Juan, Puerto Rico.
"Every day, I just can't believe that I get to have this experience of one final tour with the most talented group of people on the road," said Sandi. "I am so proud of the show that we have created and it is so moving to see so many people respond to the legacy of the music that they have heard over the years. I knew that this tour would be meaningful. I knew that this tour would be professionally executed in every possible way. I had no idea I would have this much fun and be so overwhelmed when saying 'thank you' across the country night after night. The newly announced shows in the fall will be a continuation of everything that we created in the spring. The Forever Grateful Tour will bring an evening full of heart, happiness and hope and, without a doubt, more gratitude than I have words to express."
Sandi is one of the most highly acclaimed performers of our time with five GRAMMY® awards, four Billboard Music Awards, three platinum records, five gold records, more than 40 Dove Awards, and 12 million albums sold. For more information on the tour, please visit: sandipatty.com.
Forever Grateful: The Farewell Tour Dates:
September
15 – Knoxville, TN
16 – Roanoke, VA
17 – Henderson, NC*
18 – Greenville, SC
23 – Panama City, FL
24 – Savannah, GA
25 – Atlanta, GA
26 – Jacksonville, FL
October
6 – Lexington, KY
7 – Memphis, TN
8 – Evansville, IN
9 – Ashland, KY
13 – Philadelphia, PA
16 – Lancaster, PA*
21 – Milwaukee, WI
23 – Holland, MI
28 – College Station, TX
29 – Baton Rouge, LA
30 – Dallas, TX
November
3 – Columbus, OH
4 – Detroit, MI
5 – Dayton, OH
6 – Washington, DC
*On sale does not apply. Visit sandipatty.com for details.
To purchase tickets to Forever Grateful: The Farewell Tour, visit: https://www.premierproductions.com/tour/sandi-patty-forever-grateful-farewell-tour