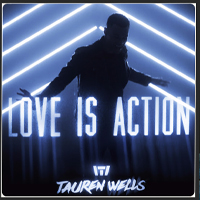 FRANKLIN, Tenn.—Provident Label Group announces the signing of Tauren Wells to a solo deal. Wells' first single, "Love Is Action," impacts radio today and with a handful of early adds, the song is already No. 33 on Billboard's Christian Airplay Chart. The official music video for the song also debuts today and can be viewed on this page by clicking the "play" button above.
Tauren Wells is the former front man for Royal Tailor, a Provident Label Group/Sony Music act whose two albums over a five-year-career—Black & White (2011-buy) and Royal Tailor (2013-buy)—garnered two GRAMMY® nominations and a nod for New Artist of the Year from the GMA's Dove Awards.
This past May, Wells debuted his first solo effort with the impactful "Undefeated," featuring Reach Records' rapper KB (buy). The song also served as the soundtrack for the internet-famous Dude Perfect's "World Records Edition" episode on YouTube, which has garnered more than 23 million views since its release.
"Undefeated" is just a taste of Wells' unconventional style. "I'm not trying to be famous or cool for the sake of being cool," he explains. "I want to say something that impacts people."
Wells' new song "Love Is Action" describes where he is now as a 30-year-old recording artist embarking on a solo career. Nobody changes the world standing in the crowd / Nobody's voice is ever heard until you open your mouth.
"I have more awareness of who I am, what I want to say and where I want to go," Wells shares. "I can't say that I had that at 22. I feel provoked to do something and I want it to be multi-dimensional. I want the listener to feel inspired, but also to ask questions. I feel like the music is the runway to taking people somewhere."
Residing in Houston, Wells and his wife are raising two young children and building their life around music and ministry. In addition to his music career and serving on staff at his father-in-law's church, he and his wife launched Prisma Worship Arts School two years ago. Prisma, a private music academy with two locations in the Houston area, has grown exponentially in a short time, already employing 20 "Dream Coaches" and teaching 100 students. Their hands are full but Wells feels compelled to do more. His wife champions the idea: "We said from the beginning that this is a family calling."
"I feel called to call greatness out of people," Wells shares. "If people have spoken a low expectation of someone's life, I want to be the voice that raises the ceiling and makes them feel like they can do something great."
At the end of this summer Wells will hit the road with KB and Blanca on The Tempo Tour, then will join the Be One Tour with Natalie Grant and Danny Gokey this fall. He admits it's tough to leave his family to travel but it also gives him hope. With his oldest son now at an age to understand when he's leaving for the road, Wells says, "I tell him, 'You know why I'm leaving? To tell people about Jesus. That's what we do."
THE TEMPO TOUR dates*:
Sept. 10
– Jacksonville, FL
Sept. 15
– Washington, D.C.
Sept. 23
– Indianapolis, IN
Sept. 24
– Springfield, OH
Sept. 29 – Dallas, TX
THE BE ONE TOUR dates*:
*all tour dates subject to change