GRAMMY NOMINATED AND SIX-TIME DOVE AWARD-WINNING ROCK BAND RED CELEBRATES THE 10TH ANNIVERSARY OF ITS DEBUT RELEASE
RELEASING DIGITALLY RE-MASTERED ANNIVERSARY EDITION OF RIAA CERTIFIED GOLD ALBUM, END OF SILENCE, JUNE 3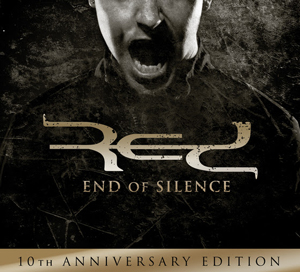 NASHVILLE, Tenn.—GRAMMY® nominated and six-time Dove Award-winning rock band, Red, is celebrating the 10th anniversary of its debut, chart-topping, and RIAA certified GOLD album, End Of Silence, in June. The group will release a digitally re-mastered Anniversary Edition of the album on June 3 containing popular tracks from the album, including the RIAA GOLD certified digital single, No. 1 and Dove Award-winning song, "Breathe Into Me," along with four additional No. 1 singles from the album. The special edition will also contain two never-before-released new songs ("If I Break" and "Circles") and four acoustic tracks.
"These past 10 years have been nothing short of incredible! Cheers to the REDNATION and all of our loyal listeners around the world," said Red bass player Randy Armstrong. "We thank you for this opportunity and the privilege it has been to inspire."
Supporting the celebration, Red will head out on a 10th anniversary tour in the fall where they will be performing almost the entire End Of Silence album from top to bottom. More details on the tour will be announced soon.
Red has had an illustrious career over the last 10 years selling more than a million albums—with a RIAA Certified GOLD album (End Of Silence) and RIAA Certified GOLD digital single ("Breathe Into Me"). The group has two GRAMMY award nominations and have won six Dove Awards from nineteen nominations. Radio success for Red includes two Top 10 Active Rock singles, three Top 10 Mainstream Rock singles and 20 consecutive No. 1 hits at Christian radio. Red has appeared on Conan and The Tonight Show with Jay Leno and has been featured in USA Today, Rolling Stone, Billboard and Guitar World. Touring over the last decade includes TobyMac, Matthew West, TFK, Newsboys, Kutless, Brian "Head" Welch, P.O.D., CREED, Switchfoot, Third Day, and many others.