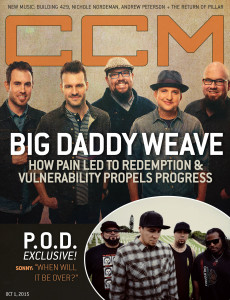 Check out the October 1, 2015 edition of CCM Magazine! To kick off October and the Fall season, we feature Big Daddy Weave as our cover story. From pain to redemption, the boys of Big Daddy Weave reveal stories of their progress through faith, inspiring their latest release Beautiful Offerings.
Pics you won't see anywhere else!
Also in this issue, we feature exclusive pics of Colton Dixon, Fireflight w/Anberlin, Jason Crabb, Natasha Owens + more!
A passionate invitation
In our upcoming Nov. 15 cover story, P.O.D. lead singer and founding member, Sonny Sandoval, talks with raw honesty about fervor and frustration, success and struggle, motives, criticisms and the future of the band in a powerful preview of that exclusive interview.
Free stuff!
We also offer a FREE chapter from Cindy Morgan's new book How Could I Ask For More: Stories of Blessings, Battles, and Beauty.
New music showcase
We go inside the studio with Michigan worship band Modern Day Cure, with images shot on location and inside the Lift Music Co. studios in south Nashville, TN! Complete with sound bytes!
Music reviews:
Building 429, Nichole Nordeman, Andrew Peterson, Cindy Morgan, Jon Foreman, 7th Time Down, Pillar, Rawsrvnt