If an artist is lucky, there's one song in their discography that redefines a career and catapults them into new territory. For Steven Curtis Chapman, it was "The Great Adventure." For MercyMe, it was "I Can Only Imagine." For Chris Tomlin, it was "How Great Is Our God." And for the five men who comprise BIG DADDY WEAVE—Mike Weaver (lead vocals, guitar), Jay Weaver (bass, vocals), Jeremy Redmon (guitar, vocals), Joe Shirk (saxophone, keys, vocals) and Brian Beihl (drums)—"Redeemed" will be the one song they'll be singing for the rest of their lives. And they're okay with that.
BEAUTIFUL REDEMPTION
"I had hated myself for as long as I could remember."
Mike Weaver, the lead singer for Big Daddy Weave, makes this candid confession during an interview at band mate Jeremy Redmon's house just outside of Nashville on a muggy summer afternoon. A large clap of thunder unfurls and sheets of rain pelt the windows of Redmon's dining room as the band breaks for lunch (and an interview) in the midst of recording their seventh studio project, Beautiful Offerings. Weaver's admission comes in response to a discussion surrounding the band's unexpected runaway hit "Redeemed"—the biggest single in the group's 16-plus year history.
"We didn't initially submit that song [at first] because I wrote it just for me," the front man shares, adding, "The Lord really began a process of turning me loose from some old mindsets."
Once the band recorded the song and released it to radio, the message began to resonate with listeners just as much as it personally connected with Weaver. "Redeemed" spent an astounding 11 weeks at No. 1, and has now been certified RIAA Gold. In addition, the cut won "Song of the Year" at the first annual K-LOVE Fan Awards and garnered Big Daddy Weave Dove and Billboard Music Award nominations. But the story doesn't end there. "Redeemed" was one of four consecutive singles from the band's landmark release, Love Come To Life (Fervent), which went straight to the top of the radio charts.
The original members of Big Daddy Weave met and formed the band in college at the University of Mobile (front man, Mike, and bassist Jay are brothers). The group released their debut with Word Entertainment in 2002. After years of non-stop touring, as the five members began the recording process for 2012's Love Come To Life, the album that featured "Redeemed," they considered throwing in the towel. With wives and kids at home, leaving for tour runs became increasingly harder, and the repercussions of constant road life were beginning to take their toll. In addition, the band members experienced a season of intense grief as they lost loved ones and Redmon's personal residence—which houses the studio where Big Daddy Weave records—caught fire and burned to the ground. The odds were stacked against them, and the men weren't sure if moving forward with music was even an option.
Then God did the unthinkable, and Love Come To Life became the biggest success story of the band's tenure. No one was more surprised with the success of their last album and acclaimed single than Weaver & Co. "You have no idea how God can use [you]," the front man says. "He can even use you when simply being transparent about your own brokenness. That, for me, was the biggest shocker."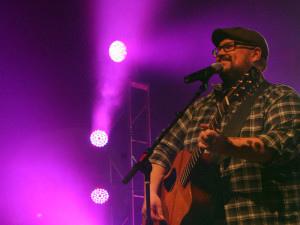 BEAUTIFUL RECEPTION
The band continued to be surprised as they toured the country in support of Love Come To Life, and learned they weren't the only ones willing to share their vulnerable stories. In fact, the band's interaction with fans became the impetus for the tracks that made the cut for this year's Beautiful Offerings (Fervent). As they've performed songs from their deep discography to audiences across the nation, they've found that believers who have identified with the message of songs like "Redeemed" have put their faith in Christ, yet they're still stuck in their old ways, drowning in the past and failing to move beyond bad habits that continue to yield unhealthy results. Thus, many of the songs on Beautiful Offerings address how as Christ followers, we don't have to continue walking in our old ways. Once we've been forgiven, we can fully live in the freedom found in Christ.
The band has also began leading intentional times of ministry at the end of each of their concerts. The five men descend from the stage and pray for people one-onone, giving them a front row seat to seeing God work in the circumstances of His people. They tell story after story of the miraculous events they've watched unfold in the lives of listeners.
"When someone is literally touched, and they no longer have cancer because the Lord placed His hand on them; or someone who has been carrying a load of emotional baggage, and at a concert, they leave it all there. Those are the things we are celebrating," Weaver contends, noting that Beautiful Offerings is as much an acknowledgement of what God has done as it is an expectation of what He's going to do.
In their countless conversations with fans, they've also realized there's a significant difference between religion and a relationship with our heavenly Father that believers often overlook. "Religion only celebrates perfection, but God celebrates progress," Weaver asserts, adding that God wants what's best for His children. "He's real, and He loves us," the singer says with tears in his eyes. "He loves everyone, and I've never been more certain of that in my entire life. He's so kind."
BEAUTIFUL OFFERINGS
As they entered the studio to begin work on Beautiful Offerings, the band members began where their hit song left off. "So what does it mean to be redeemed now? What does a redeemed life look like?" Weaver muses, asking the questions the band posed as they started writing for their new album.
"We've weeded through and tried to gather a sense of which songs the Lord wants on the record," he continues. "[We're asking God], 'What more do You want to say to people—first of all, including us?'
"We've [tried] to find songs that echo where we are now—not necessarily anything that's just a song for a song's sake," adds Redmon, who produced the group's latest effort. "I went into this [process] trusting that the Lord is working out the details. Even in the sounds and parts that were chosen, He really [made] it happen."
His band mates affirm this sentiment, adding that they've witnessed Redmon literally on his knees in the studio praying over these songs and seeking God for direction. For Beautiful Offerings, the band co-wrote with everyone from Josh Wilson and Matt Maher to Matt Redman, Jason Ingram, Ed Cash and Tedd T., crafting songs stemming from personal experience. In addition, they covered a new Bethel Music tune, "The Lion And The Lamb." The band says Bethel's music was often playing in the background while they worked on this project, providing inspiration and truth-filled solace throughout the recording process.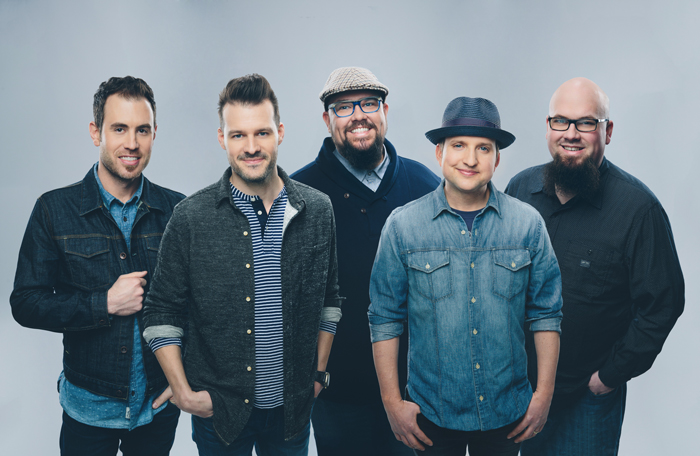 BROTHERLY BONDS
The men gathered around the table all agree Big Daddy Weave is as much a brotherhood as it is a creative partnership. However, like real-life siblings, they also admit disagreements aren't uncommon and that tensions inevitably ran high during their previous season of unexpected loss. "I think we know that we would be violating what God wants us to be about by leaving," Weaver confesses. "So we stuck around, even through the 'yuck.' We still get mad at each other. This is just like my family. At times, there's no one that I can get more upset with than my wife and kids [and] my brother. But there's never anyone that I love more."
"We still argue and fight," Joe Shirk acknowledges, "but we are a lot healthier than we were years ago—there's a lot more grace, mercy and forgiveness." The mountains, the valleys—they've climbed them all together; and now that they're on the other side of it, their bond is stronger. "The truth of the matter is God really wants to grow us in discipleship with conflict," Shirk continues. "God wants to use those valleys. He wants to work with us in the
hard times." He refers to their bond, their ministry and all it encompasses as his "church family," saying, "Big Daddy Weave is the best church I've ever been a part of." Brian Beihl offers, "It's been awesome to see what the Lord has done through this band." As the newest member, he adds, "I am very blessed to be around a group of guys that I can share life with—we are on the same page of keeping God at the center of everything. It helps to keep me strong."
NEW BEGINNINGS
Whether they're writing songs behind closed doors, singing in front of thousands or using their post-concert ministry time to intercede for people, the men of Big Daddy Weave are learning to follow where God leads. "I'm learning the less I have to do with the whole thing, the better off it's going to be," Jay Weaver contends. "I'm just trying to let Jesus be who He wants to be, and out of that, everybody has the best shot because of who He is. That's if I'm playing bass guitar, or if I'm loving someone we come in contact with…or if I'm sitting at home being a dad. In every instance, less of me is better."
"We just want to share the love of God out there," Mike Weaver adds, affirming their core mission as a band and as individual believers called to minister through song. "That sounds like a trite thing in this business, [but] I'm not kidding. It will change everything. This love is unstoppable when it's unleashed on the source of the conflict."
The sales numbers and accolades certainly affirm that people are hearing and responding to the message found in their songs, but at the end of the day, Big Daddy Weave hopes listeners can join them in relishing what it means to live post-redeemed. While redemption is the ultimate catalyst that births new life, it's how we live that life moving forward that now matters. After all, His story is our story, and one certainly worth telling.
"The standard we have to live up to is, hopefully, obedience," Weaver adds, saying cultural pressures, numbers and charting stats doesn't stress out the band like they once did. "We are learning how to be moved by Him. And I'm not professing to be good at that. I probably get it wrong way more times than I get it right. To see Him move, despite the 'music thing,' that's what I want to see."
Outside, as the downpour dissolves into a drizzle and the clouds part making way for tiny rays of soft, golden sunlight to appear, Big Daddy Weave prepares to head back downstairs to Redmon's studio to put the finishing touches on what has become Beautiful Offerings. Allowing God to bring beauty from ashes, walking in obedience every step of the way…their music is a beautiful offering, indeed.