Atlanta, GA (February 15, 2019)
1K Phew, the Atlanta based rapper-songwriter and Reach Records recording artist, announces the release of his new EP What's Understood. Releasing today. The 7-track project is now available for purchase and streaming across all DSPs here. The first video for the lead track "Only One" was also released.
Click the play button above to watch the video for "Only One"
Titling the project, What's Understood, 1K Phew wants to give fans and new listeners alike the chance to get to connect with his story on a deeper level, "People like to make assumptions all the time – about music, faith and even me," he says. "This project is about helping people come to a common understanding."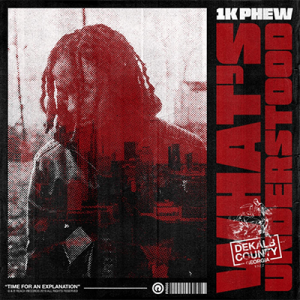 What's Understood Track Listing:
Only One
Golden Ticket
Back Soon
How We Coming
Bigger Than Me
Pain
Ali
With guest features from the likes of Reach Records label mates KB and WHATUPRG as well as nobigdyl, and Ty Brasel, 1K Phew wants to build momentum for a stand-out year. On What's Understood, he hits hard with a lyrical, bass-heavy body of work, complete with his own message of praise and purpose. Where assumptions rule the day and common sense ain't so common, Phew says, "It's time for an explanation."
The project also releases with a documentary shot and produced by This is Me TV.
Watch the 1K PHEW – Be Who God Made You To Be documentary here: