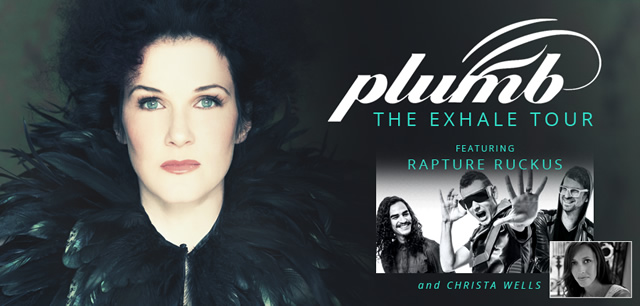 Nashville, TN – Since the May release of EXHALE, Curb recording artist PLUMB has spent the summer focused on her family, performing at festivals and remodeling her "Hope House." Now, Plumb is eager to showcase her new music and share her message of hope and restoration by headlining THE EXHALE TOUR, with special guests Rapture Ruckus and Christa Wells.
The tour is tailored around the themes of the EXHALE album: reflecting a grateful heart, giving credit to God for the restoration of her marriage and sharing the hope that He alone can give.
Her previous single/album/book "Need You Now"/ NEED YOU NOW became a runaway success, with the title track holding the #1 spot on the Billboard Christian Hot AC chart for 6 consecutive weeks and achieving over 300,000 certified spins at radio and is nearing 3 million Spotify plays.
NEED YOU NOW was heavily focused around the near loss and redemption of her marriage. Over the past two years, Plumb's life theme has been "hope is oxygen", explaining that hope keeps us alive when our lives are in turmoil. Now, EXHALE launches a new call to action: to exhale a message of hope to others who are hurting.
The debut single, "Lord I'm Ready Now," found great success at radio, achieving a Top 5 rank on the Billboard Hot AC chart and garnering her a Female Vocalist of the Year nomination at the KLOVE Fan Awards. Now, the title track is impacting radio as, not only the fastest charting track in the artist's career, but as the greatest gainer in Christian Music over the past 3 months. "Exhale" just moved into the Top 10 on the Billboard Christian Songs Chart, and holds the #1 spot on the Christian Music Weekly CHR chart.
Find out more about PLUMB at http://www.plumbmusic.net
Opening support for the Exhale tour are New Zealand natives who are currently Nashville-based Rapture Ruckus and singer-songwriter Christa Wells.
ABOUT RAPTURE RUCKUS:
Rapture Ruckus is one of those rare groups that has attracted a world-wide audience that defies labels. Drawn to their dynamic concerts where every light, special effect, graphic and lyric is created for the audience to fully experience the music and the message, Rapture Ruckus' infectious blend of rock and hip-hop has found a loyal following with all races, ages and genders. Earlier this year, Rapture Ruckus hit #1 on the Billboard Christian Album Chart for sales of it's most recent studio album, INVADER (Deluxe Edition). http://www.raptureruckus.com
ABOUT CHRISTA WELLS:
Christa Wells is not only a long-time friend of Plumb, but is also the co-writer of the "Need You Now" single. Based in North Carolina, Christa has independently released four albums which deepened her reputation for poignant lyricism and attracted a devoted tribe of listeners. Perhaps best known for writing Natalie Grant's groundbreaking single "Held" and being named the Gospel Music Association's Songwriter of the year in 2006, Christa now devotes much of her time to creative collaborations and to mentoring young songwriters. Stand-out tracks on her most recent album FEED YOUR SOUL are "Come Close Now" and "Shine." http://www.christawellsmusic.com
EXHALE TOUR 2015
(additional dates to be announced)
Sept. 18 — Fayetteville, NC (Plumb only)
Sept. 19 — Leesburg, FL (Plumb only)
Sept. 24 — Fleming Island, FL
Sept. 25 — Slidell, LA
Sept. 26 — Crystal Springs, MS
Oct. 2 — Angola, IN
Oct. 3 — Muncie, IN
Oct. 4 — Urbana, OH
Oct. 8 — Kill Devil Hills, NC
Oct. 9 — Lexington, NC
Oct. 10 — Mebane, NC
Oct. 11 — Kodak, TN
Oct. 17 — Cadiz, KY
Oct. 18 — Huntsville, AL
Oct. 23 — Chanute, KS
Oct. 24 — North Platte, NE
Oct. 25 — Earlham, IA
Nov. 6 — San Antonio, TX (Plumb only)