Nashville, TN (February 12, 2020)
Integrity Music has announced Behold Him, the latest offering from Paul Baloche, releasing on February 28. In his 25-year career, Behold Him is Baloche's 22nd album and is filled with reverence, thankfulness, and trust in God's provision, presence, and who He is. The lead track, "What A Good God," and the previously singled "Behold Him" are available now on all streaming platforms along with any pre-order. A new lyric video (below) was also released for "What A Good God."
Paul Baloche is best known as one of the modern church's most acclaimed worship artists, songwriters, and conference worship leaders nationally and internationally. Penning contemporary praise and worship standards such as "Open the Eyes of My Heart," "Above All," "Your Name," and "Hosanna," his songs have been recorded by numerous acclaimed artists including Michael W. Smith, Casting Crowns, Matt Redman, Philips, Craig & Dean, and more.
Baloche has already begun leading the album's first single, "Behold Him," with congregations and audiences worldwide. Co-written with Mitch Wong (Lincoln Brewster, Chris McClarney), the song has broken into the global church at a blistering speed within three months of its release, already ranking high among the industry's top worship resource providers such as CCLI, Planning Center, PraiseCharts, WeAreWorship, and more. Based on Psalm 41, the song is a meaningful one for Baloche as it's his response to the chaotic noise of today's culture. With the constant and frenetic energy of endless to-do lists and expectations, "Behold Him" is a repetitive message that bears repeating: Be still and behold Him.
"Life moves lightning-fast these days," he explains. "The things we process in a single day feel like a hundred times more than our grandparents had to process in an entire year. Everyone is moving, has an agenda, has something on their mind, trying to get to the next thing. The message of this song, and the entire album, is not just to be still, but also to know Him, that He is God. It's taking Him in with your mind, your soul, your body, your spirit and beholding the wonder of the Lord."
Beyond carrying a reverent message of hope, Behold Him also delivers some impactful collaborations and features from today's top industry-leading songwriters and worship leaders.
"One of the greatest treasures to me, when I look back at writing songs, recording albums, and doing ministry worldwide, are the friendships I've made," Baloche shares. "This album is a massive reflection of those relationships. The opportunity to write and collaborate with people like Kim Walker-Smith (Jesus Culture), Kari Jobe, Matt Redman, Chris Brown and Steven Furtick (Elevation Worship), Leslie Jordan (All Sons and Daughters), Amanda Cook, Mitch Wong, Mia Fieldes, Jason Ingram and Ben Cantalon – these are all true friendships. We've written songs together, ministered together. Many of these relationships are like family."
It's been 20 years since the release of "Open The Eyes of My Heart," and Baloche feels the same now as he did then. "It feels like the same heart cry—a desire to really see the Lord – to behold Him," he concludes. "I don't want to lose sight of what God is doing in my life and in this generation. I want to see Him, hear Him, and follow Him."
Watch the Official Lyric Video for "What A Good God":

"What A Good God" Lyrics:
Each time I doubt Your goodness
You show me You are with us
Your presence makes the difference
I've seen it every time
What a good God
Bringing me back to life
Opening up my eyes
God of every blessing
Standing by my side
Calling me by name
I won't be afraid
Faithful to Your promise
You will make a way
No wall can stop Your kindness
No place Your love won't find us
Mercy is right behind us
I've seen it every time
I've seen it, I've seen it
I've seen it every time
You're faithful, You're faithful
You're faithful every time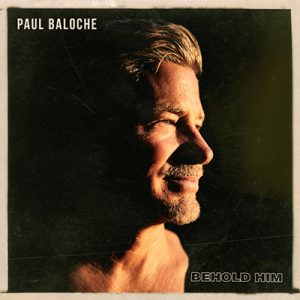 Behold Him Track Listing:
What A Good God
Nothing Like Your Love
Behold Him (Feat. Kim Walker-Smith)
I Am Thankful (Feat. Leslie Jordan)
I Love You (Always)
For The King
Heaven Is Where You Are (Feat. Chris Brown)
Marvelous Things (Feat. Kari Jobe)
How Faithful
A Million Years