Atlanta, GA (October 29, 2019)
North Point InsideOut, a musical expression of worship from North Point Ministries' seven churches in Atlanta, GA, released its acclaimed Abundantly More EP from North Point Music and Centricity Music in August of 2019. The band is currently on tour with Jordan Feliz, and embarked on a radio tour to support the single "Wide Open" featuring North Point InsideOut vocalist Clay Finnesand.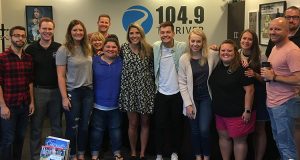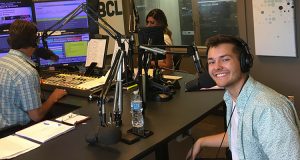 Finnesand is pictured (above) on the recent radio tour with Melissa Montana of Star 88.3 (Fort Wayne, IN), the staff of 104.9 The River (WCVO, Gahanna, OH), and with Scott and Tiffany of WBCL 90.3 (Fort Wayne, IN).
Upcoming tour dates with Jordan Feliz:
11.15 Louisville, KY Hurstbourne Baptist Church
11.16 Auburn, IN County Line Church of God
11.17 Moon, PA Impact Christian Church
11.20 Kirtland, OH New Promise Church
11.22 Indianapolis, IN The Caring Place
11.23 Bristol, TN Avoca Christian Church
11.24 Nashville, TN Belmont Church