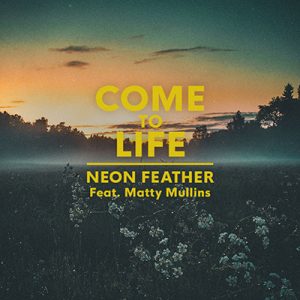 Nashville, TN (February 15, 2019)
Centricity Music artist Neon Feather, aka Ben Thompson, has released his latest song, "Come To Life," featuring CCM singer Matty Mullins. The pop track is available now on all digital outlets.
The song features Neon's top-notch production, with up-tempo synth hooks and rhythmic base-drops. Neon says he loved the opportunity to work with Mullins on the song, along with cowriter Paul Duncan (Lauren Daigle, Jordan Feliz), who helped the song's catchy sound and meaningful message take shape.
"The idea for the chorus actually started as a potential Christmas song, but I quickly knew I wanted it to be more than that. I brought it to Matty, and we had a great day fleshing out the verses. His voice is just so life-giving and perfect for the song."
Neon will be releasing more new music this season. Keep up with all the updates at https://neonfeathermusic.com