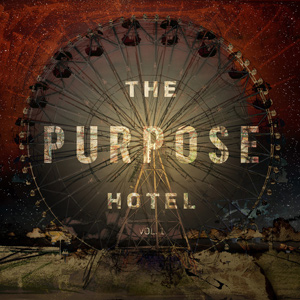 NASHVILLE, Tenn.— The eclectic digital soundtrack from distinguished photographer Jeremy Cowart's The Purpose Hotel has been revealed and features 20 decorated artists including Paramore, Imogen Heap, Dave Barnes, NEEDTOBREATHE and more. Dedicated to the hotel launch, The Purpose Hotel: Vol. 1 will become available for download through The Purpose Hotel Kickstarter page at the $15 pledge level and above. The soundtrack will be released on September 14, 2016 after the Kickstarter campaign goal of $2 million is met.
"When I walk into any public environment, the first thing I notice is the music playing overhead. And 95% of the time, it's simply the wrong choice," notes Cowart. "I don't mean that only in terms of personal taste but more in terms of how the music does or doesn't match the brand. It's as if building owners don't even consider the music choices and how it reflects their company. I can guarantee you that the music playing in The Purpose Hotel will be very carefully curated. The artists we've chosen for The Purpose Hotel soundtrack are not only friends of ours, but their songs perfectly fit where we see the hotel going, with themes of justice, relationships, beauty and hope."
Designed to give the public the power to change lives, the crowd-sourced effort has gathered over 2,500 backers in support of the cause. From blankets to soap, internet access to furniture, The Purpose Hotel will help fight cyclical issues through domestic and international partnerships such as Charity Water, The Giving Keys, Compassion International and more.
The Purpose Hotel: Vol. 1 artists include:
Andy Davis
Dave Barnes
Hawk In Paris
Imogen Heap
Jill and Kate
Johnnyswim
Katie Herzig
Lauren Daigle
Leagues
Marc Scibilia
Matt Stanfield
Matt Wertz
NEEDTOBREATHE
Paramore
Phillip LaRue
Remedy Drive
Secret Nation
Sleeping At Last
The Daylights
Trent Dabbs
About The Purpose Hotel™ | The first hotel of its kind, celebrity photographer Jeremy Cowart (Taylor Swift, Carrie Underwood, Kelly Clarkson, Tim Tebow, The Kardashians, Sting, Maggie Gyllenhaal, Heidi Klum, Emma Stone, Ryan Seacrest and more) created humanitarian relief project The Purpose Hotel™ that aims to fight against injustices of war, hunger, poverty, global warming, racial tension, unclean water, addictions and natural disasters. Every aspect of the global chain will directly contribute to those in need through strategic sourcing and procurement. The project is launching with a large campaign designed and developed by The Purpose Hotel™. Through the project's Kickstarter, individuals have the opportunity to become co-founders as backers of the project.