Nashville, TN (May 10, 2019)
Jesus Christ The Exorcist is the name of the upcoming new project from Neal Morse. It's a Progressive Rock Opera 10 years in the making, that was written and produced by Morse and includes performances by Neal and an all-star cast of vocalists and musicians. Jesus Christ the Exorcist will be released on June 14, 2019 as a double album set featuring about two hours of music that will encompass the entire spectrums of genres that Neal Morse is known. The project tells the "Story of Stories"…the life and death of Jesus.
Neal Morse Debuts New Song "There's A Highway" check it out here:

Widely regarded as one of the world's leading Progressive ("Prog") Rock musicians, Neal Morse is a prolific musical driving force and his desire to move people through his music burns brighter than ever before. Born in California in 1960 to a musical family, Morse played in many bands during his youth, learning and mastering several instruments along the way. In 1995, he wrote and recorded The Light with his then new band, Spock's Beard. It was an album grounded strongly in the then-unfashionable progressive rock genre, but the album and especially the title track became modern prog classics and brought Morse and the band global recognition. Over the next seven years, Spock's Beard released six critically acclaimed studio recordings and multiple live recordings, while establishing a passionate fan base in the Prog Rock community.
Watch the music video for "Get Behind Me Satan" here:

In 2001, Morse shocked his followers with word that he was stepping away from secular music…with no indication of where he was heading. Morse was now walking an unknown road. After success with Spock's Beard, he was starting all over again, this time boldly declaring his Christian faith and risking fan rejection and financial failure. He needn't have worried. As the Testimony Live DVD triumphantly documented. Morse returned to the studio with Mike Portnoy and touring bass player Randy George to record 2004's One, a conceptual album that was a vast, rewarding piece of music that reached new heights.
Morse, Portnoy, and George stayed on this musical journey together until Bill Hubauer and Eric Gillette were added as permanent members of the Neal Morse Band in 2015 on The Grand Experiment album. This collective effort saw collaboration between all of the members and has subsequently yielded another studio album, the astonishingly brilliant Similitude of a Dream, and two live releases.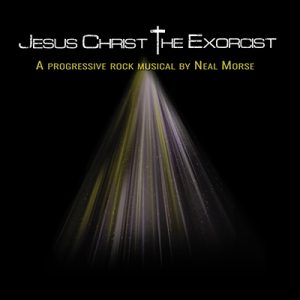 Jesus Christ The Exorcist Tracklist:
CD1
1. Introduction
2. Overture
3. Getaway
4. Gather The People
5. Jesus' Baptism
6. Jesus' Temptation
7. There's A Highway
8. The Woman Of Seven Devils
9. Free At Last
10. The Madman Of The Gadarenes
11. Love Has Called My Name
12. Better Weather
13. The Keys To The Kingdom
14. Get Behind Me Satan
CD2
1. He Must Go To The Cross
2. Jerusalem
3. Hearts Full Of Holes
4. The Last Supper
5. Gethsemane
6. Jesus Before The Council And Peter's Denial
7. Judas' Death
8. Jesus Before Pilate And The Crucifixion
9. Mary At The Tomb
10. The Greatest Love Of All
11. Love Has Called My Name  (Reprise)
Cast:
Ted Leonard – Jesus
Talon David – Mary Magdalene
Nick D'Virgilio – Judas Iscariot
Rick Florian – The Devil
Matt Smith – John the Baptist
Jake Livgren – Peter and Caiaphas
Neal Morse – Pilate, Demon 1, Disciple 1
Mark Pogue – Israelite 1, the Madman of the Gadarenes, Pharisee 2
Wil Morse – Israelite 2, Demon 3, Pharisee 1
Gabe Klein – Demon 2, Pharisee 4
Gideon Klein – Demon 4
Julie Harrison – Servant Girl