The most critically acclaimed album of the band's 32-year career, Fallen, sells over 10,000 copies in the first week and lands at:
#2 on Top Hard Music Albums
#2 on Top Contemporary Christian Albums
#2 on Billboard's Top Christian/Gospel Albums
#5 on Top Current Rock Albums
#20 on Top Current Physical Albums
#26 on Top Current Albums
#29 on Top Current Digital Albums
#44 on the Billboard Top 200
NEW YORK, NY—With the October 16th release of their ninth studio album, Fallen, Stryper continues to dominate the hard rock/heavy metal scene. The Frontiers Music SRL release sold over 10,000 copies during the first week of release landing at #2 on the Top Hard Music Albums chart, #2 on the Top Contemporary Christian Albums chart, #2 on Billboard's Top Christian/Gospel Albums, #5 on the Top Current Rock Albums chart, #20 on the Top Current Physical Albums chart, #26 on the Top Current Albums chart, #29 on the Top Current Digital Albums chart and #44 on the Billboard Top 200.
In addition, Fallen soared to #1 on the iTunes Top Metal Albums chart and #3 on the iTunes Top Rock Albums chart immediately upon release. Stryper's latest studio effort consists of 12 songs showcasing the musicianship that has garnered them a huge fan base in the mainstream world and Christian market for three full decades.
"We are truly blessed to still be making music 32 years into our careers, music that relates and speaks to our fans worldwide," says front man and album producer, Michael Sweet. "We strive to outdo ourselves with each release and hopefully we've done that with Fallen. Here's to 32 more years!"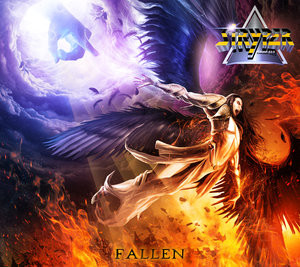 32 years after exploding onto the rock scene—and MTV—Stryper has delivered their most critically acclaimed release to date. The Associated Press recently decreed, "If this were 1986, this album would easily sell 2 million copies. But it's not, and that's a shame, because 2-million people need to hear how good this album is." Metal Onslaught Magazine recently raved in their first ever 10 out of 10 review, "Like a fine wine Stryper have improved over time and have become legends in the metal genre," and CCM Magazine declared, "Arguably the most game-changing Christian rock band in history, Stryper continues to excel with a steady stream of new music that fits right alongside a ten million-album selling catalogue."
The music video for the single, "Pride," premiered exclusively at Billboard.com and can be seen below:

Stryper is one of the top Christian rock bands of all time. Rocking since 1984, the band is responsible for such '80s metal classic albums as Soldiers Under Command, To Hell With The Devil and In God We Trust. In fact, Stryper is the first band to ever have two songs in MTV's Top 10 simultaneously with their hits "Free," and "Honestly." After a sabbatical for much of the 1990's, Stryper returned strong in the early 21st century. To date, the Dove Award-winning and GRAMMY nominated band has sold over 10 million records worldwide.
Unlike many of their counterparts, Stryper is comprised of all four original members with Michael Sweet on vocals and guitar, Oz Fox on guitar, Tim Gaines on bass and Robert Sweet on drums.
For more information, visit www.stryper.com.