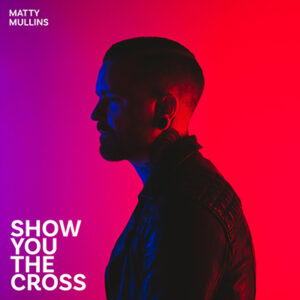 Nashville, TN (April 5, 2021)
With his new single, "Show You the Cross," Matty Mullins offers Christian music fans an empathetic perspective, admitting that sometimes words are not enough while gently guiding them to look up.
Written by Matty Mullins, Bryan Fowler, Micah Kuiper, and Mark Schoolmeesters, the inviting lyrics "come as you are, come as you are" plainly explain that no one has to be "ready" or in "a good place" to welcome Jesus into their hearts. Similarly, one doesn't have to be "a model Christian" to tell others their salvation story.
"For me, publicly sharing my faith came with a lot of pressure," said Mullins. "I subconsciously put an expectation on myself that I always needed to be ready to say the right thing at the right time if someone were to ask me about Christianity. But through many conversations, I realized that big words and inspirational quotes are empty if they don't point toward something greater. I had to remember that though the change that had happened in me was complex, it was the simplicity of the Gospel that brought me to Christ."
Galatians 2:20 says, "I have been crucified with Christ. It is no longer I who live, but Christ who lives in me. And the life I now live in the flesh, I live by faith in the Son of God who loved me and gave himself for me."
Mullins continued, "I believe that message, the profound simplicity and power of the cross, is all that a broken world needs."
Stream 'Show You the Cross' HERE:

Produced by co-writers Bryan Fowler and Micah Kuiper, "Show You the Cross" is the first new music from the Black River Christian artist since his Top 20 hit "No Hold on Me," itself a bold declaration of victory through the blood of Jesus over the grip of the enemy. The official music video for "Show You the Cross" (watch above) was shot in Nashville at Black River's Sound Stage Studios and captured Mullins' emphatic vocal performance.
Visit: www.mattymullins.com