Nashville, Tenn.—Centricity Music will be releasing the Deluxe Edition of Lauren Daigle's debut album titled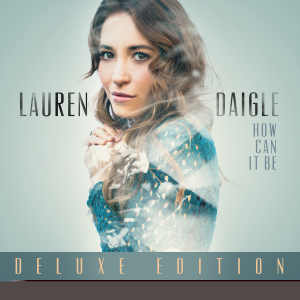 HOW CAN IT BE DELUXE EDITION on May 6.  She will also embark on the Hillsong UNITED Empirestour beginning April 28 in Baltimore Maryland.  Lauren, who has reigned the top of the charts since HOW CAN IT BE was originally released last year, received her first GRAMMY® nomination for "Best Contemporary Christian Music Album" at the 58th GRAMMY® Awards.  HOW CAN IT BE debuted in the Top 30 on the Billboard 200, and going into the GRAMMYs last week, the album went #1 for the fourth time in six weeks on Billboard's Top Christian Chart (five weeks at #1 overall). Her current single, "Trust In You," is also a Top 10 hit on the NCA chart.  
The HOW CAN IT BE DELUXE EDITION, produced by Paul Mabury (Brooke Fraser, Hillsong, One Sonic Society), will feature her radio hits "How Can It Be," "First" and "Trust In You," that have endeared Lauren to listeners worldwide. Two brand-new songs, two stripped down versions of fan favorites, plus a live recording of "How Can It Be" will be included.
Says Centricity Music's General Manager Steven Ford, "We are so excited to release the HOW CAN IT BE DELUXE EDITION.  In the last year since the release of her debut album, fans have been asking for more – more songs, more performances, more of Lauren.  We are happy that we could include two songs that are the audio of some of Lauren's most popular You Tube videos, plus two brand new songs.  The highlight for me is the live version of "How Can It Be."  To hear more than 20,000 people singing along on that song is spine tingling.  I know that her fans will love this release."
Lauren is the fastest selling new artist in Contemporary Christian music in the past decade.  In addition to her recent GRAMMY® nomination, Lauren has won three Dove Awards (nominated for four) — "New Artist of the Year," "Song of the Year" ("How Can It Be") and "Contemporary Song of the Year ("How Can It Be"), and won the 2015 K-LOVE Fan Award for "Worship Song of the Year." Her debut albumreached #1 on the Billboard Top Christian Albums Chart and #1 on the iTunes Christian Gospel Top Albums Chart with more than 200,000 album sales and 600,000 track sales.
Her singles "How Can It Be" and "First" both reached #1 on the iTunes Christian Songs Chart and #1 on the Christian Digital Tracks Chart with "First" also reaching #1 on the NCA radio chart. She has had almost 50 million YouTube and Vevo views, with approximately 200,000 subscribers. For "How Can It Be" alone, she has had more than 14 million views. Lauren is currently on the Winter Jam tour through March, and has performed on the bill with such well-known artists as Hillsong United, Kari Jobe, David Crowder, Casting Crowns, Chris Tomlin, and many others.
Lauren is very excited about her upcoming Hillsong UNITED Empires tour.  "When I was in high school," she says, "I first started leading worship. Hillsong United created the songs that I would lead each week. Those songs assisted in forming my theology not only as an adolescent, but still today. It's an honor to share the stage with such momentous worshippers who thrive in sharing the heart of God with audiences around the world."
Lauren Daigle / Hillsong UNITED Empires tour dates are as follows:
April 28             Royal Farms Arena                    Baltimore, MD
April 29             Agganis Arena                          Boston, MA
April 30             Cross Insurance Arena               Portland, ME
May 2               Air Canada Centere                    Toronto, ON, Canada
May 3               Wolstein Center                         Cleveland, OH
May 5               Greensboro Coliseum Comp      Greensboro, NC
May 9               ShoWare Center                        Seattle, WA
May 10             Moda Center                             Portland, OR
May 12             Taco Bell Arena                         Boise, ID
May 14             Oracle Arena                             Oakland, CA
May 16             Selland Arena                            Fresno, CA
May 17             Viejas Arena                              San Diego, CA
May 18             The L.A. Forum                         Los Angeles, CA