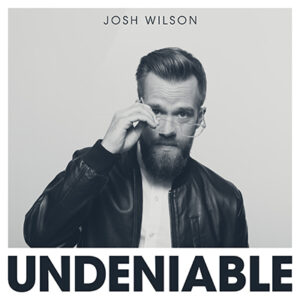 Nashville, TN (February 8, 2021)
On the heels of Josh Wilson's multi-week run in the top 5 with "Revolutionary," a song about kindness that garnered more than 15 million streams, the Black River Christian recording artist returns with the up-tempo, energizing single, "Undeniable." The new single impacts Christian Radio on Feb. 26th and is digitally available everywhere now.
"Undeniable" can also be heard on top playlists including Amazon Music (Fresh Christian), Apple Christian (Risers), Pandora (New Christian Music Now), and Spotify (Top Christian and New Music Friday Christian).
These past twelve months have proven to be globally trying, yet when we "pray for a mustard seed of Faith, undeniable faith…" we will find that God keeps His promises.
Written by Josh Wilson, Ben Glover, James Tealy, Colby Wedgeworth, and produced by Jeff Sojka, "Undeniable" harkens back to that time in Wilson's youth when he first remembers "being on fire and so confident in my faith and in who God was and is."
YouTube Audio Video:

Stream:

"I believe we have the ability to see God, no matter where we look. When I was young, I remember being on fire and so confident in my faith and in who God was and is. Sometimes though, especially as I get older, those feelings don't keep up with my faith, but I still believe what Romans 1:20 says, "for since the creation of the world, God's invisible qualities, His eternal power, and divine nature have been clearly seen being understood from what has been made." So, even if I can't always see God directly, I see evidence of Him everywhere I look, in the beauty of the world He has made, in the songs that we sing, and especially in other people since we're all made in God's image. I'm very thankful for the days when I actually feel what I believe, but even on the days when those feelings aren't there, I believe that God has made His presence and His love, undeniable." –Josh Wilson
While 2020 disrupted countless people's lives and livelihoods, touring artists in particular, Wilson found a way to tour safely. With his single "Revolutionary" climbing the charts, Wilson created the RV-lutionary Backyard Tour and held 20 socially distant, private events in the backyards of fans' homes. Additionally, Wilson played roughly the same number of virtual events with a portion of proceeds from select dates going to support COVID-19 Relief among local ministries.
Visit: www.JoshWilsonMusic.com