Josh Wilson is no longer letting his past define him with his new album That Was Then, This Is Now (Sparrow) that releases later this month on July 31. The title track and debut radio single from the project is currently climbing radio charts at AC Monitored (No. 12), AC Indicator (No. 4) and the National Christian Audience chart (No. 14).
Today the music video for "That Was Then, This Is Now" is premiering across the Salem Radio Network sites (listed below) as well as at KTLY.com. Fans can also pre-order the album beginning today, July 10, and receive three digital songs instantly – the title track, "No More," and "Blown Away."
Sites Premiering "That Was Then, This Is Now" Music Video:
www.klty.com
www.thefishatlanta.com
www.thefishla.com
www.thefishportland.com
www.955thefish.com
www.kbiqradio.com
www.94fmthefish.com
www.1039thefish.com
www.thefishomaha.com
www.thefishhawaii.com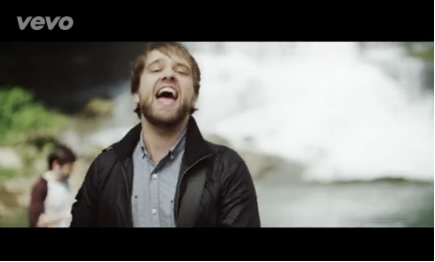 Click on the image above to watch Josh's music video
(You may need to adjust browser settings or use an alternate browser)
ABOUT JOSH WILSON:
The Texas-native started taking piano lessons in fourth grade, learned guitar and drums in sixth and seventh grade, and fell in love with songwriting in college at Nashville's Belmont University. A self-described introvert with an aversion to the spotlight, Wilson never dreamed he'd be the one behind the mic, but God had other plans. Since signing to Sparrow Records in 2006, Wilson has become a staple at radio, amassing five Top 10 hits on Billboard's Hot Christian Songs chart, including "Savior, Please," "I Refuse," "Fall Apart," "Carry Me" and "Before The Morning," which landed the No. 4 spot on Billboard's 2012 Year-End Christian Songs chart. He's toured with some of the genre's biggest acts, including Third Day, Steven Curtis Chapman, Matthew West and Casting Crowns; and even veteran artists who applaud Wilson's carefully honed musicianship have admired his impressive live show. He's been known to have as many as 20 instruments on-stage at any given time (and knows how to play all of them).
Get connected to Josh Wilson
Website: www.joshwilsonmusic.com/
Facebook: www.facebook.com/joshwilson
Twitter: twitter.com/joshwilson
YouTube: www.youtube.com/user/joshwilsonmusic