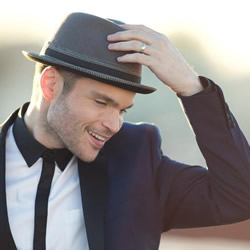 (NASHVILLE, Tennessee) — Christian pop artist Jimmy Needham has partnered with NewReleaseToday.com for today's exclusive World Premiere of his "Forever and Ever, Amen" lyric video. Twenty-eight years ago this week, the Randy Travis hit, written by Paul Overstreet and Don Schlitz, was the #1 Country Single in both the USA (Billboard) and Canada (RPM). Needham's re-imagined pop version is featured on his new album, Vice & Virtue (Platinum Pop Records).
"I grew up listening to old school country and thought it would be fun to cover one of my favorite childhood songs," says Needham of the Randy Travis hit that won a Grammy for Best Country & Western Song and an ACM Award for Song of the Year. "I obviously am not a country artist but I liked the challenge of getting to re-imagine this song in my own way, with a little less steel guitar and a little bit more soul."
Watch Jimmy Needham's "Forever and Ever, Amen" lyric video here:
For more information, visit the official website at www.jimmyneedham.com.
Watch these other Jimmy Needham videos from Vice & Virtue:
"Vice & Virtue" Music Video: http://tinyurl.com/ViceAndVirtue
"The Story" Lyric Video: http://tinyurl.com/NeedhamTheStory