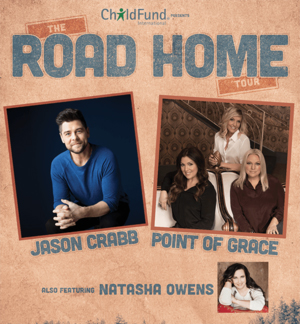 NASHVILLE, Tenn.—Excitement is in the air as some of Christian music's most beloved artists unite together for The Road Home Tour. Fan-favorites Jason Crabb and Point of Grace, along with rising female vocalist Natasha Owens, are gearing up to bring unparalleled musical excellence to audiences in more than ten cities.
"You talk about a great night…this is going to be an amazing night of music!" exclaimed Jason Crabb. "Are you kidding me, Sharing the stage with Point of Grace and Natasha Owens—I can't wait! It's going to be wonderful!" Presented by ChildFund International, the tour will kick off "deep in the heart" of Texas before making stops in Missouri, Oklahoma, Arkansas, Tennessee, and more as the tour begins in the summer and progresses through the fall.
Tickets and more information can be found at JasonCrabb.com, PointOfGrace.net and NatashaOwensMusic.com.
The Road Home Tour dates:
July 9, 2016
– Waxahachie, TX
July 10, 2016
– Wichita Falls, TX
July 22, 2016
– Hendersonville, TN
August 11, 2016
– North Augusta, SC
August 12, 2016
– Taylors, SC
August 13, 2016
– Lynchburg, VA
September 30, 2016
– Springfield, MO
October 1, 2016
– Lafayette, IN
October 6, 2016
– Birmingham, AL
November 11, 2016
– Owasso, OK
November 12, 2016
– Searcy, AR
November 13, 2016
– Oak Grove, MO