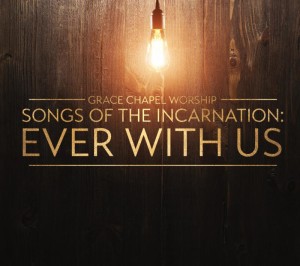 NASHVILLE, Tenn.—Merry Christmas from Grace Chapel Worship! Hailing from beautiful Leiper's Fork, Tennessee, the worship team from Grace Chapel is thrilled to announce the release of their gorgeous Christmas-inspired radio single, "Ever With Us," from the new 7-song holiday EP, Songs of the Incarnation: Ever With Us on the Grace House Music label. "Ever With Us can be purchased online through iTunes, Amazon Music and Google Play. Songs of the Incarnation: Ever With Us is scheduled to be released on Friday, December 4, 2015 through the same online outlets.
Written by music industry veterans Mia Fieldes ("Proof of Your Love," "He Knows My Name"), Rick Cua ("I Can, I Will," "Above All Else"), and Jonathan Allen ("All of Me," "Hallelujah, What a Savior"), "Ever With Us" features lead vocals by Dove Award winner Alisa Childers (ZOEGirl).
"Ever With Us" went for adds at Christian CHR, Christian AC, Christmas, and Christian Hot AC radio formats on Friday November 20, but the song has already generated a significant buzz in the industry, rising to the No. 1 position on two charts from music industry discovery site PlayMPE: Top 20 Streaming (Christian) and Top 20 Downloads (Christian). On both charts, "Ever With Us" tops single releases from such popular artists as Natalie Grant, Hawk Nelson, Danny Gokey, MercyMe, Laura Story and Bekah Shae.
"My primary goal was to create a recording that people would want in their music collection at Christmastime," declares producer Scott Williamson (Point Of Grace, Three Strand). "I think we did that. But, in doing so, we found our way into something even better—something truly worshipful that reflects the spirit of the season."
The peace evoking holiday-themed song employs understated piano leads, gently strumming acoustic guitars and sweet strings to accentuate Childers' lovely vocals, as the lyrics remind listeners of the true meaning of the Incarnation—that the Word came down and walked among us. He is God with us! Worship, joy and awe collide in a song that is destined to become a holiday classic.
"I've had the honor of serving on the worship team at Grace Chapel for the last few years, and I am continually blown away and blessed by the talent and hearts of this whole team of worshippers," says Childers. "God has unified us in such a sweet way and it's exciting to get to share a little bit of what God is doing here with the rest of the world. It's been so fun for me to be back in the studio, but this time in the context of worship, which has always been my heart."
Contemporary Christian music pioneer and Grace Chapel pastoral care pastor Rick Cua credits Grace Chapel worship pastor Jonathan Allen with creating an atmosphere of worship that was conducive to producing the joy-inspiring song. "Jonathan Allen's nurturing leadership has made a way for the worship team to pour it all out for Jesus each time we worship, while at the same time get out of the way so the congregation can stay focused and draw close to the Lord," says Cua."Every track on Grace Chapel Worship's new Christmas EP, including "Ever With Us," is a reflection of what God is doing musically from week to week and song to song at our church. The foundation of it all is our desire to worship God by giving back everything He's given us."
In keeping with Grace Chapel's heartbeat for missions and in response to God's call to "look after orphans" (James 1:27), a portion of the proceeds from all Grace Chapel Worship sales will go towards Josiah's House, a boys' home started by Grace Chapel in the Dominican Republic.