Francesca Battistelli Partners with Mercy Ministries on Music Video "He Knows My Name" Currently #2 on the National Christian Audience Chart
Featuring Testimonies from Four Mercy Ministries Graduates
Announces third appearance on Winter Jam Tour Spectacular for 2014-2015
October 29, 2014-(Nashville, TN) Yesterday, GRAMMY®-nominated, Dove Award winning "Artist of the Year" and Christian music's best-selling new artist in over 10 years, Francesca Battistelli, in partnership with Mercy Ministries, released her latest music video, "He Knows My Name," which can be viewed here…
The second single from Francesca's third consecutive No 1 album, If We're Honest (Fervent Records), "He Knows My Name" was also the most-added song during its first week at radio and is currently #2 at NCA, #3 at AC Monitored, #2 at AC Indicator and #6 at HOT AC/CHR.
The 12-minute long-form music video, directed by Joseph Snyder and produced by Ben Kasica of Skies Fall Media Group, wraps the stories of four Mercy Ministries Graduates around the inspiration found in Battistelli's "He Knows My Name." From drug addiction to an unplanned pregnancy to abuse and suicide attempts, Leslie (24), Alma (31), Shannon (20) and Taylor (19) recount the tragedies and circumstances that nearly robbed them of their young lives and how their experience with Mercy Ministries helped restore them physically, emotionally and spiritually.
The partnership between Francesca and Mercy Ministries, who has provided life-saving residential treatment to young women since 1983, is a natural fit given that Battistelli has tackled issues of self-worth and identity throughout her career and has made strides to continue to uplift listeners with her songs and lyrics, even making light of her own shortcomings. In 2009, her No.1 single, "Free to Be Me," from her label debut, My Paper Heart, brought to the forefront Battistelli's own battle with perfectionism. In 2011, the lead single from her sophomore album, Hundred More Years, "This is the Stuff," once again showcased a transparency within Battistelli's writing that resonated with audiences, indicated by its #1 position at AC Indicator.
"He Knows My Name" resonates with that same awareness of social pressures and the need for one's identity to be found in Christ. The video releases on the heels of a rising trend of mental illness in America. On October 10, USA Today ran a special report on the growing rate of suicide within America, stating that nearly 40,000 Americans lose their lives each year to suicide, making it the nation's 10th leading cause of death and second-leading killer for young people ages 15-34.*
Mercy Ministries fills a counter-cultural gap for some of these potential victims by providing its services free of charge. The message within Francesca's music, particularly within "He Knows My Name," bolsters their mission. Nancy Alcorn, founder and President of Mercy Ministries states: "We are so thankful for the partnership we have with Francesca Battistelli and Word Entertainment. I am blown away by the 'He Knows My Name' video and so are all the staff at Mercy! This video captures the essence of Mercy Ministries and shares our graduates' stories in a beautiful and powerful way. I pray God will touch the hearts of everyone who sees this video, and may it be masses of people globally!"
For Francesca, the connection with the song was instant. "You write the songs you need to hear," says Battistelli. "This was about being transparent and going deeper spiritually. To me, it's an anthem. How many of us feel defined by what people say about us? But God calls us by name. His words for us are: chosen, free, forgiven, beautiful, wanted, loved. THAT is the only voice we should be listening to."
Francesca has been taking that message on the road. During each stop along her current "If We're Honest Tour" featuring Sanctus Real, Francesca has asked fans to RSVP and then, during the performance of "He Knows My Name," up to 25 of these fans' names a night are featured on a large screen echoing the declaration within the song.
After the tour concludes its 17-date run on November 2, Francesca will once again be a part of Winter Jam Tour Spectacular. The leading female performer, Battistelli joins label-mates Skillet, Everfound, About a Mile, Veridia, Family Force 5 and for KING & COUNTRY on the massive tour which Pollstar has named the largest tour in the world for Quarter One for four years. This marks the third appearance for Battistelli on Winter Jam.
For more information or to watch the "He Knows My Name" video, visit www.francescamusic.com.
For more information on Mercy Ministries, visit www.mercyministries.com.
For ticketing and scheduling information for Winter Jam, visit www.jamtour.com.
*USA TODAY SPECIAL REPORT, The tragic tide of suicide: 4 an hour, By Gregg Zoroya, 10/9/2014. Available HERE.
**********************************************************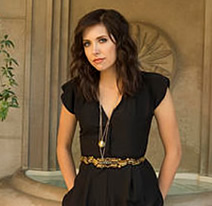 About Francesca Battistelli
Since her debut in 2008, Francesca Battistelli has earned a GRAMMY® nomination (Best Gospel Performance), six Dove Awards (including "Artist of the Year" in 2011) and 23 Dove Award nominations. Both her debut album, My Paper Heart (certified Gold in 2012), and her 2011 sophomore release, Hundred More Years, took the No. 1 spot on Billboard's Christian Album chart, while her current and third album, If We're Honest, took the No. 1 spot on the Christian overall SoundScan Chart. With over a million albums sold to date and nearly 2 million single downloads, she is the best-selling new artist in the genre in the past decade. Her music has also been featured on TriStar Picture's "Soul Surfer," Columbia Picture's "Julie and Julia," TLC's "Jon & Kate Plus 8," ABC's "Extreme Makeover: Home Edition," NBC's "The Biggest Loser," FOX's "So You Think You Can Dance," and several other television and movie outlets. In addition, this past fall she was featured on over three million Diet Pepsi Cans throughout the US.
About Mercy Ministries
Mercy Ministries' free-of-charge, voluntary, faith-based residential program serves young women from all socio-economic backgrounds, ages 13-28, who face a combination of life-controlling issues such as eating disorders, self-harm, drug and alcohol addictions, depression and unplanned pregnancy. Mercy also serves young women who have been physically and sexually abused, including victims of sex trafficking. Using proven methods, a holistic approach and professional counselors in a structured residential environment, Mercy has helped thousands of young women be restored to wholeness. Mercy's goal is to help these young women find freedom from their issues and empower them to serve in their communities as productive citizens.
About Winter Jam
NewSong's Winter Jam Tour Spectacular has been the #1 tour in the world (first quarter) for four consecutive years. In 2015, the blockbuster tour will celebrate its 20th anniversary with 47 dates headlined by GRAMMY®-nominated, platinum-selling rockers Skillet. Since creating Winter Jam in 1995, GRAMMY®-nominated NewSong hosts and continues to oversee the exponential growth of this groundbreaking tour. Promoted by Premier Productions and presented by Holt International, the Winter Jam Tour Spectacular features Christian music's best and brightest artists and provides a powerful platform for the Gospel message across the country. For further information and a complete list of tour dates, visit jamtour.com.