NASHVILLE, Tenn.— GRAMMY®, Dove and Stellar Award nominated Clear Sight Music artist FLAME is set to launch Forward, his highly anticipated eighth studio recording, July 17. Produced by SPEC, JR and GROC, Forward features 13 new tracks written by FLAME.
Showcasing a variety of hip-hop styles from bass heavy to contemplative tracks, highlights of Forward include "1st Freedom," "Know the Times," "Positively Eternal," "Believe That" and "We Gon' Reign." The collection also features appearances by Dove-nominated Gospel artist Melinda Watts on "Let It Shine," and Mike REAL on "Had Me Flexin.'"
"These songs focus on today's times, both around the world and in America, and how we need to move forward by engaging culture with the Gospel," says FLAME. "I had so much on my heart I wanted to communicate through this project. I wanted songs that would provide listeners with hope and encouragement to move forward in the midst of challenges — to remind them that, in Christ, we are all given the power to press on."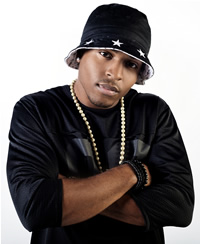 A leader in the Christian rap/hop-hop scene for more than a decade, FLAME's 2013 recording, Royal Flush, debuted at #11 on Billboard's Rap Albums chart while reaching #3 on iTunes' Hip-Hop/Rap Top Albums chart. Garnering a Dove Award nomination for Rap/Hip-Hop Album of the Year, Royal Flush included the hit single "Start Over," which received airplay on contemporary urban stations while the video is approaching 2 million YouTube views. FLAME's Our World: Redeemed was nominated for a GRAMMY® Award in 2009 for Best Rap or Rock Gospel Album. He has also received three Stellar Award nominations and seven GMA Dove Award nominations. His first book, All In, was published earlier this year.
Forward will be available at all leading digital outlets and retail stores nationwide. For further information visit http://www.clearsightmusic.com/flame or https://www.facebook.com/Flame314