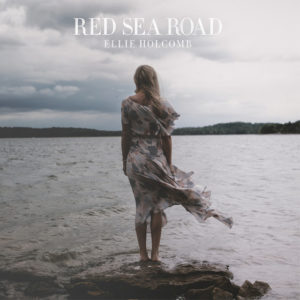 NASHVILLE, Tenn.—The 2014 GMA Dove Award-winning New Artist Of The Year Ellie Holcomb will release her sophomore album, Red Sea Road, on January 27, 2017. This record celebrates the hope we have in Jesus, and the powerful & personal ways Holcomb has seen Him make Red Sea roads through some of the most heartbreaking times of her life.
"The past two years for our community have been heavy, full of suffering and loss," shares Ellie Holcomb. "Red Sea Road is a record full of songs about how I've seen God show up in the middle of all the pain. I know now more than I did two years ago that He is faithful, no matter what we are facing, & I've seen Him continue to draw near to our broken hearts. My friend Ann Voskamp wrote a blog post that inspired the title track, where she describes it like this, '…we believe that an unseen hope makes a Red Sea road when there seems to be no way.'"
This project follows her highly successful and well-received debut As Sure As The Sun (buy), which hit No. 1 its first week on the iTunes' Christian and Amazon Christian charts. The debut radio single, "The Broken Beautiful" hit in the Top 10 at AC Indicator.
Holcomb's debut radio single from Red Sea Road is the track "Find You Here," which has a deeply personal story and inspiration.
"I wrote 'Find You Here' to remind myself that God shows up in the middle of our most desperate and broken places," Holcomb describes. "This song is about the profound peace my family and I experienced in the face of a cancer diagnosis for my dad, and it tells the story about God drawing near to our breaking hearts, bringing comfort into our chaos & covering our deepest fears with His faithfulness. It comes from that beautiful promise in Philippians 4, Rejoice! …The Lord is near. Do not be anxious about anything, but in everything, by prayer and petition, with thanksgiving, present your requests to God. And the peace of God, which transcends all understanding, will guard your hearts and your minds in Christ Jesus."