Franklin, Tenn – Award-winning singer/songwriter Dan Bremnes has debuted his latest music video for "In His Hands," his new single with Capitol Christian Music Group. Hailing from Salmon Arm, British Columbia, Bremnes filmed the video in his Canadian hometown at many of his favorite childhood locations. "I was thrilled to get the chance to film my latest video in Salmon Arm," Bremnes shares. "I hope this video can help share the captivating beauty of this secret gem of a town where I grew up."
"In His Hands" is from Bremnes' LP, Where The Light Is, released in June and is the follow-up to his first two singles "Beautiful" and "Where The Light Is." Bremnes also filmed an acoustic version of "In His Hands," along with a story behind the song, posted below. A lyric video is also available.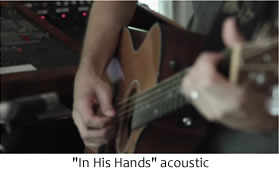 Dan Bremnes' has been touring non-stop for the past year across the U.S., Canada, Australia and New Zealand. He's been touring this fall on Tenth Avenue North's "All The Earth Is Holy Ground Tour" along with Sidewalk Prophets. Below are the remaining dates for the tour.

All The Earth Is Holy Ground Tour:
OCT. 30 – Waukesha, WI – Fox River Christian Church
NOV. 01 – Quincy, IL – Oakley Lindsay Center
NOV. 04 – Ladson, SC – Coastal Carolina Fair
NOV. 05 – Winterville, NC – Reimage Church
NOV. 06 – Atlanta, GA – Variety Playhouse
NOV. 07 – Cordele, GA – Crisp County Middle School
NOV. 12 – Corinth, MS – Crossroads Arena
NOV. 13 – Pensacola, FL – Brownsville Assembly of God
NOV. 14 – Lake Charles, LA – Glad Tidings Church
NOV. 15 – Round Rock, TX – Spirit Fest / Dell Diamond Stadium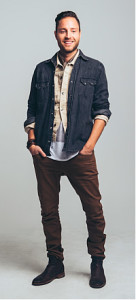 ABOUT DAN BREMNES: When this singer and songwriter from Salmon Arm, British Columbia was just ten years old, he played drums at his local church while also learning guitar and discovering a passion for songwriting. As years passed it was a six-month missions trip in Australia with Youth With a Mission (YWAM) that re-shaped his perspective: "While I was there, something happened in my life, and God started working on my heart," Bremnes shares. "I started thinking about making music that was really intentional about reaching people on a spiritual level. I wanted to come right out and speak about God and my relationship with Him."
As he was pursuing his professional dreams, Bremnes' faced the tragic news that his mother was killed in a car accident. An event that truly turned his life upside down, there was no better way to honor his mother's memory than by throwing himself wholeheartedly into music. He began to share his songs with anyone who'd listen and continued to hone his songwriting craft. It wasn't long before people took notice. In his career to date, Bremnes has collected a host of awards and accolades as well as No. 1's in Canada, eventually atttracting the attention of Nashville's Capitol Christian label.
Since Bremnes released his debut single "Beautiful" in 2014 with Capitol CMG, he has achieved numerous honors. He won four awards at the 36th Annual GMA Canada Covenant Awards show for Artist of the Year, Male Vocalist of the Year, and Pop/Contemporary Song and Recorded Song of the Year for "Beautiful". The song, which was the biggest radio add week of any new artist in Capitol CMG history, also peaked at No. 14 on the National Christian Audience Chart and garnered over 4.8 million impressions weekly.
Dan Bremnes has toured extensively throughout the U.S., Canada, Australia and New Zealand. Along with appearing on Crowder's Neon Steeple Tour this past spring, he supported Steven Curtis Chapman on the 2014 Canadian "The Glorious Unfolding Tour," joined label-mate Josh Wilson on a U.S. tour last fall, and was on the "Here For You Tour" with The Afters and Hawk Nelson. This summer he appeared on "The Burn Bright & Beautiful Tour" with Starfield's Jon Neufeld, visiting 11 cities across western Canada. Bremnes is currently on Tenth Avenue North's tour along with Sidewalk Prophets. He now resides in Nashville with his wife and son. "Get To Know Dan Bremnes" by visiting this video link here.
For more info / Connect with Dan Bremnes:
Website:  www.DanBremnes.com
Facebook:  www.facebook.com/danbremnes
Instagram:  instagram.com/danbremnes
Twitter:  twitter.com/danbremnes