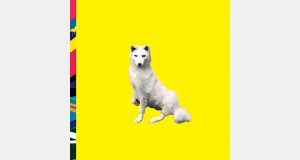 GRAMMY® acclaimed artist Crowder unveiled Neon Porch Extravaganza today, surprising listeners with a live album recorded in his new hometown of Atlanta. Complete with his famed touring sidekick, Kenny Rodgers The Arctic Fox as the cover art, Neon Porch Extravaganza features six newly recorded live songs and a video element from his latest Neon Steeple, which boldly debuted at No. 8 on the Billboard Top 200.
"We recorded an evening on the front porch at my home church in Atlanta, GA, PCC (Passion City Church) it was freaking stupid good," shares Crowder. "I became convinced that it would be a disservice if it were not documented properly. If you are reading this, I know you have most likely been in some public space joining my friends and I on the front porch singing like crazy and this is for us, you and I. It was a ridiculous night. We had a party before we started singing on the porch. There was a mechanical bull. There was a petting zoo. There was inflatable jousting. There were food trucks with stupid good food stuffs. There was a dance floor. There was a dance party in my tour bus. And then we went inside to sing to God. It was perfect. I hope you enjoy. Enjoy the auditory experience."
To download Neon Porch Extravaganza on iTunes, CLICK HERE. To join in the excitement, tag #NeonPorchExtravaganza in social conversation.
About Crowder | Crowder has been embraced for his lyrically powerful and musically elaborate and unpredictable songs that have found themselves being sung everywhere from churches to clubs all across the country. As a solo artist, Crowder has received a GRAMMY® Nomination, K-LOVE Fan Award Nods and five GMA Dove Awards Nominations. Crowder's first solo album, Neon Steeple, debuted at No. 8 on the Billboard 200, named iTunes 2014 Christian Album of the Year and boasted a No. 1 radio hit. Featuring a duet with music legend Emmy Lou Harris, Crowder made his debut appearance on the Grand Ole Opry last year supporting the latest record. As an active member of the Passion movement founded by Louie Giglio, Crowder participates in the impactful university student gatherings in the U.S. and around the world. A published author, Crowder has also penned two books including his acclaimed release, "Everybody Wants to Go to Heaven, but Nobody Wants to Die."
About sixstepsrecords | Founded in 2000 by Louie Giglio, sixstepsrecords is a worship label and a division of Passion Conferences. sixstepsrecords' artists include Chris Tomlin (ADORE: Christmas Songs of Worship), Crowder (Neon Steeple), Matt Redman (Unbroken Praise), Christy Nockels (Let It Be Jesus), Kristian Stanfill (Mountains Move) and Passion (Passion: Even So Come). The label partners with Sparrow Records/Capitol Christian Music Group for A&R, marketing, sales and distribution operations. For more information on sixstepsrecords, visit: www.sixstepsrecords.com.