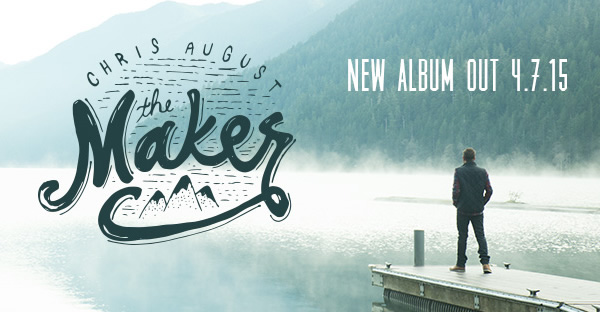 Chris August's Most Personal Work to Date, The Maker, Debuts to Strong Support Among Radio, Critics and Fans

Single Breaks Top 15 at AC Radio
August featured on NewReleaseTuesday.com, CCMMagazine.com, ChristianReviewMagazine.com and more

Grand Ole Opry debut set for April 18
Nashville, TN, April 7, 2015 – Chris August's The Maker debuts April 7, 2015 to eager anticipation and critical acclaim. This, the third studio album from the Dove Award-winning Male Vocalist of the Year, reveals a deeper side of the artist who swept the Dove Awards following his debut in 2011. A skateboarding accident in 2012 could have claimed his life; instead, it launched a period of personal growth and spiritual maturity that courses through each track on The Maker, which largely came together while Chris was touring with label-mates and friends, Big Daddy Weave, who witnessed first-hand the work God was doing in Chris' life — work that underscored much of The Maker.
"We've known Chris August for a while now, and I've always been a fan of his music but in this last season to walk through life a little bit with him I see where so many of the songs on this record have come from," says Mike Weaver of Big Daddy Weave. "God has done some really great things in his life. To me this is his best record to date and I can't wait for the rest of the world to see and hear what we've been hearing from our friend for the last couple of years."
For the rest of the world, the wait is over. The title track and lead single are generating significant traction, already breaking the top 15 at AC Radio. Produced by the revered and multiple award-winning Ed Cash, The Maker is also garnering critical acclaim industry-wide.
"Musically diverse, story-like lyrics, a Godly passion and adoration that literally flows from each song, this is by far one of the best CCM albums of the year so far!" – Christian Review Magazine, 5 out of 5 stars

"There's a distinctly personal feel to Chris August's new album, but he retains his signature pitch-perfect pop sound…" – Grace Aspinwall / CCM Magazine, 4 out of 5 stars

"Lyrically, The Maker is August's strongest effort to date. It's a project hard to find fault with, combining his captivating voice with different sounds and powerful lyrics." – Caitlin Lassiter / NewReleaseTuesday.com, 4.5 out of 5 stars

"With The Maker, August channels some of the deepest parts of his soul and lays out his heart for everyone who will listen. This is Chris August at his best and he doesn't hold anything back. This should be contender for album of the year." – Reggie Edwards / The Front Row Report, 9 out of 10 rating

"Chris August's new album,The Maker, reads like a well-narrated autobiography… He gives exposition at life's intersection between his own personal struggles and God's revelation of Himself through the pages of Holy Scripture." – Timothy Yap / Hallels.com

"I am fully convinced that Contemporary Christian singer/songwriter Chris August writes some of the catchiest choruses of this generation of worshipers." – Gans Deen / GansDeen.com
Adding to the early praise, August will also appear on the covers of CCM Magazine, Christian Review Magazine and Chords Magazine. The music video of the lead single, stunningly shot in Washington State, has generated nearly 180,000 views, adding to the immense outpouring of comments, praise and gratitude across his social media platforms.
For Chris, the entire journey from the accident to the studio to the road and back again has been one of immense challenges, but of even greater blessing and clarity about why he does what he does. With a new depth and maturity, Chris greets each day as an opportunity to bless and to be blessed.
"There's nothing better than hearing someone say a song impacted them," says Chris. "I never take that for granted."
Chris's impact will continue to spread as he tours in support of the album throughout the spring and summer. He is also gearing up for a historic moment in any musician's life — his debut appearance at the Grand Ole Opry on April 18. Click HERE for full tour listing and dates.