LOS ANGELES, Calif.—On the heels of the #1 box office hit War Room, author and speaker Priscilla Shirer will join her brother, celebrated worship artist Anthony Evans, for the nationwide Fervent Tour in February 2016. Registration will be open starting December 1.
The winter event is the follow up to the fall leg of the tour that was a sold out success. Produced by Anthony Evans Productions/Entertainment in conjunction with Jerry Shirer and Going Beyond Ministries, the inspirational event will kick off in Springdale, Ark., on February 15 and visit major markets including Austin, Texas, Oklahoma City and Nashville, Tenn., closing in Cumming, Ga., on February 26. See a full list of tour dates below.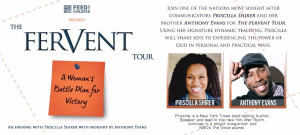 The evenings of Worship and the Word will include the New York Times best-selling author's dynamic teaching approach on how everyone can experience the power of prayer in miraculous and practical ways. Additionally, Evans will perform songs from his Billboard chart-topping album Real Life Real Worship. This will be the first major event Evans will make after his acting debut in the feature film Caged No More, where Evans co-stars alongside EMMY winning actress Loretta Divine and Kevin Sorbo. The film, produced by the team who brought you God's Not Dead, is set to open in theaters nationwide January 22.
Lastly, guests in select markets will even witness the preaching of their father, mega church pastor, author and radio personality Dr. Tony Evans.
For more information on The Fervent Tour, please go to www.theferventtour.com.
FerVent Winter Tour – February 2016
February 15 – Springdale, AR
February 16 – Austin, TX
February 17 – San Antonio, TX
February 18 – College Station, TX (Kingdom Family Conference featuring Dr. Tony Evans)
February 19 – Houston, TX (Kingdom Family Conference featuring Dr. Tony Evans)
February 20 – Oklahoma City, OK
February 21 – Wichita, KS
February 22 – Memphis, TN
February 23 – Nashville, TN
February 24 – Charlotte, NC
February 25 – Charleston, SC
February 26 – Cumming, GA