Nashville, TN (April 23, 2021)
Christian music singer/songwriter and worship leader Brian Doerksen has released his Easter special, Easter at The Shining Rose, for free until May 23rd.
Having recently created the Christmas at our House special, Brian wanted to keep momentum going with another special, this time focusing on the Easter story and the difficulty surrounding COVID. It features songs like 'Scars On His Hands,' 'On That Sunday Morning,' and re-introduces the classics 'Light The Fire Again' and 'Come Now Is The Time To Worship' in their original style. You'll also be treated to hymns from his new album, Hymns For Life, including current single 'I Heard The Voice' along with 'It Is Well' and 'Morning Has Broken' which includes his 84-year-old father Harry Doerksen.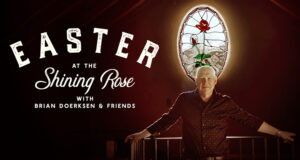 Hymns For Life Album Playlist:

Since the special includes the challenges that COVID brings, the decision was made that it would be good to share the special with as many people as possible by making it available to everyone via his website.
Brian said "My desire is to encourage people this Easter season with the hopeful message of resurrection while being honest about the struggles and scars of real life. "People are struggling with isolation and loss; our special acknowledges that visually and demonstrates through song and story our connection and the hope that Jesus provides."