Nashville, TN (February 17, 2022)
Acclaimed singer/songwriter and speaker Billy Ballenger announces the launch of the Faith Like A Child—The Acoustic Tour, hitting markets in the Midwest, Upper Midwest and South this spring. Presented by Destiny Rescue, the tour officially launched February 4 in Fort Wayne, Indiana, with a special concert hosted by Star 88.3 and Life Bridge Church Fort Wayne. Ballenger will travel to an estimated 30 cities, including Indianapolis; Atlanta; Wilmar, Minnesota; Hayward, Wisconsin; Muncie, Indiana; Dover, Ohio; and Treynor, Iowa, before the outing wraps in May.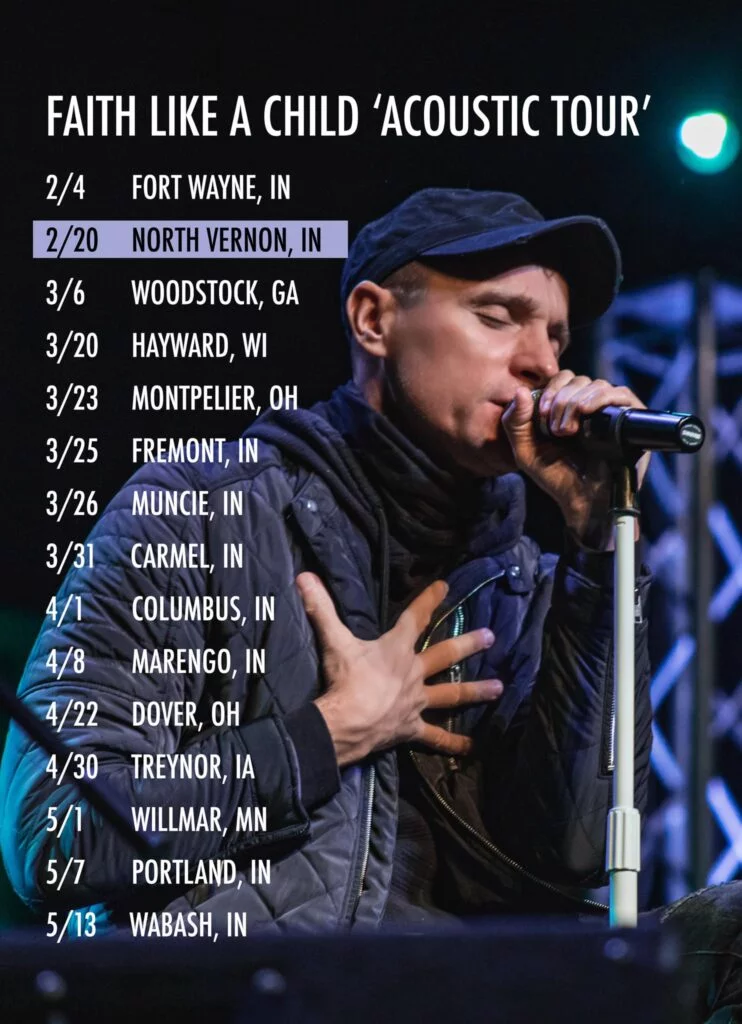 Offering free general admission seating, the Faith Like A Child Tour will feature Ballenger's acoustic performances of recent singles "Tree and the Nails," "Mercy," "Leaving the 99" and "I Believe It," the latter releasing February 18. Along with additional concert favorites, Ballenger will share his powerful journey from a life of drugs, violence and lawlessness—that eventually ended with a prison sentence—to experiencing freedom and his true calling in Christ.
"When I was making plans for this tour, the Lord put on my heart to call it 'Faith Like A Child,'" Ballenger shares. "It seems our world—and sometimes even our faith—can become complicated and filled with man's ideas, obscuring God's simple call for us to enter His Kingdom like a child. A child's faith is innocent. A child's faith isn't afraid to ask for the impossible—and expect to receive it. A child's faith can move mountains when put into action. My prayer for this tour is that every evening of stories and songs will encourage listeners to lay everything down and run into God's arms with the faith of a child."
Ballenger co-wrote his latest radio single, "Mercy," with NewSong's Russ Lee, and Jason Roy and Jesse Garcia of Building 429, with Roy helming production. The song's moving, autobiographical video was filmed in Nashville and directed by Diego Brawn of Velasco Visuals.