Nashville, TN (February 13, 2020)
Many thousands of readers of all ages have enjoyed Christian music artist Andrew Peterson's wildly imaginative fantasy adventure fiction novels in The Wingfeather Saga since On the Edge of the Dark Sea of Darkness (Book 1) was originally published more than 10 years ago.
Now, for the first time, WaterBrook/Penguin Random House is releasing the acclaimed and well-loved novels On the Edge of the Dark Sea of Darkness (Book 1) and North! Or Be Eaten (Book 2) on March 10, 2020 in special collector's hardcover editions that includes all new illustrations and hand-drawn maps, intrinsic to the classic and imaginative Wingfeather style.
Peterson's creative narrative explores themes of love, identity, sacrifice, wonder, and courage throughout the journeys of many lovable characters. Readers of The Chronicles of Narnia, The Green Ember, 100 Cupboards and other more family-friendly fantasy and adventure series will enjoy the Wingfeather Saga.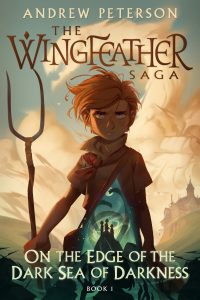 In On the Edge of the Dark Sea of Darkness, Peterson spins a riveting and adventurous tale-for-all-ages, following Janner, Tink, and Leeli Igiby and their trusty dog, Nugget, in escape from the vicious Fangs of Dang who seek the lost jewels of Anniera. Unforgettable characters and their world of wonders—from the edge of the Dark Sea of Darkness to the deadly Glipwood Forest and beyond—set the stage for this epic adventure that includes…
• Original Songs and Silly Poems
• An Ex-Pirate Grandfather
• Toothy Cows & Real Sea Dragons
• Tours of Anklejelly Manor & Peet the Sock Man's Tree House
• Mysterious Legends & Fascinating Lore
• Genuine Recipes for Maggotloaf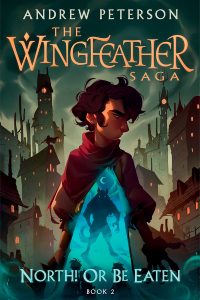 In North! Or Be Eaten, the adventure continues…Janner, Tink, and Leeli Igiby thought they were normal children with normal lives and a normal past; but now they know they're really the Lost Jewels of Anniera, heirs to a legendary kingdom across the sea, and suddenly everyone wants to kill them. In order to survive, the Igibys must flee to the safety of the Ice Prairies, where the lizard-like Fangs of Dang cannot follow. First, however, they have to escape the monsters of Glipwood Forest (all possessing very sharp teeth), the thieving Stranders of the East Bend (murderous scoundrels, the lot), and the dreaded Fork Factory (woe!). But even more dangerous are the jealousy and bitterness that threaten to tear them apart—and Janner and his siblings must learn the hard way that the love of a family is more important than anything else.
These new hardcover editions of On the Edge of the Dark Sea of Darkness and North! Or Be Eaten beautifully introduce the series to a new generation of readers who will be thrilled to join the Igiby family on their epic adventure.
Visit: www.wingfeathersaga.com or www.WaterBrookMultnomah.com