Living the dream…
Chasing the dream…
In America, perhaps more than anywhere in the world, we're very dream-oriented. We grow up hearing stories of people who defied every circumstance in the world and became rock stars, movie stars, cured diseases, walked on the moon…made their dreams come true.
Sanctus Real went from playing to twenty people, traveling in minivans and lugging their own gear, hoping for a break to No. 1 radio hits, sold-out shows and, occasionally, still lugging their own gear.
By all accounts, they achieved the dream. Yet just last year, they found themselves questioning how far they'd really come.
"Almost twenty years ago we were these punk-pop kids making music with no idea what the future looked like," says Matt Hammitt, lead vocalist. "Then we were getting married and having all these kids,and we're still making music but have started asking what it looks like for a band that's been doing this for so long. How do we remember why we started doing this? When we were kids, we saw big bands on huge stages and started molding our idea of 'the dream' around what we saw someone else do. If we don't do what they did, then we haven't achieved a dream."
Like many thirty-something's with young families in the throes of career, albeit a really cool career, this whole concept of, "Have we done enough?" plagued Matt and the rest of the band—not to a depressive state but to a disconnected one.
"I got to a place where I felt so disconnected from God," Matt says. "I was disconnected from the church because I was gone every weekend. I felt burned out. I was in my writing studio in the middle of the night one night and remember feeling nothing at all. I was thinking, What is all this for? It was one of those times you just want the whole world to stop around you so you can get some rest. I remember praying, 'God, help me.'
"That night, what you always hope will happen happened," he continues. "The Holy Spirit flooded my whole heart and being and gave that fresh feeling about what it was like when I was first inspired, when I was first in love with Jesus. I stayed up all night and wrote the song 'On Fire' that's now the last song on the new album.
"I thought about my friends who got out of youth group, went off to college, went into the world and are disconnected or who aren't even walking their faith anymore. I hope this record speaks to those people and inspires them to pray that same prayer—'God, help me.'"
That night was a launching pad, of sorts, for all the guys. While none of them were complacent in their faith or their call, the need for a fresh fire was imminent; and when it came, it raged in all the right ways, clearing the forest, revealing the truth that had been there the whole time.
"The one simple, solid truth is this—the only thing truly worth pursuing is to make Him the ultimate dream. Everything else has a way of falling into place," Matt says confidently.
Case in point, the album. Once the theme was actualized and the passion reignited, it was blazing, full-speed ahead with a vigor and creative aggressiveness (in a good way) they hadn't experienced in years, complete with a new band lineup, new producer and new recording location.
Mark Graalman, the band's drummer from day one, shares a thoughtful word about how the band's past has uniquely prepared them for the present.
"I think the reality, sometimes, even when you're on record three or four, you have to think of how not to do the same thing over again," says Mark. "God did something special on this one. Everything became new all at the same time. We had a couple guys leave the band, and a couple new guys with fresh musical perspectives and fresh talent who love the Lord came on board and really refreshed us all in a lot of ways."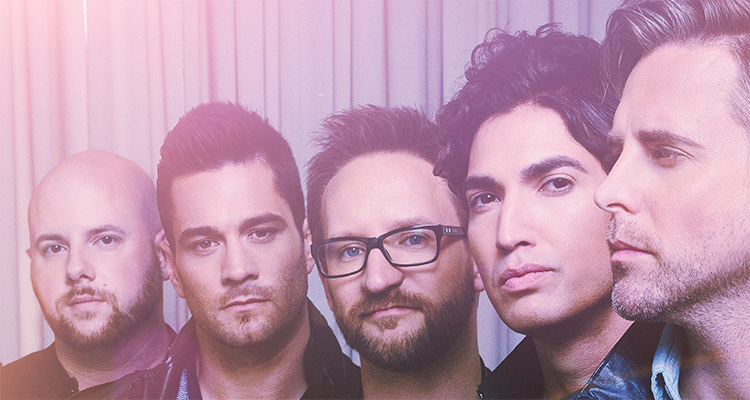 For the first time, all the band members, who are primarily based in Ohio, were in close enough geographical proximity that they could write together, play together, practice together whenever they wanted. When it came time to record, that cohesion already in development extended to the recording and production phase with the partnership with producer Pete Kipley, with whom the band hasn't previously recorded.
"Pete is so full of energy and was amped to get into the studio with us," Mark shares. "It was his idea not to record the album in Nashville."
Instead, the guys convened with their gear in Matt's backyard.
Conveniently, his backyard contained a garage in the process of being finished with a studio. Happy to have a roof over their heads that required no rental fee or time frame whatsoever, the recording became fun.
"The process of making this record felt as exciting as making our first record over ten years ago," adds guitarist, Chris Rohman. "We spent the first day pulling gear together and screwing it all in place in the studio. It was a complete group effort. There was no stiff studio time to conform to, and I think you can really hear that in the tracks."
The freedom was ubiquitous and the joy unanimous among the band members.
"For the first time ever, there were no restraints, we weren't on the clock," Mark echoes. "We were free to have the whole place to ourselves, to work all night some nights and then go home and sleep in our own beds. Everything about the experience was new and fresh again.
"That's been the most exciting thing in the last two to three years—to see real growth in the fruit of the band as a ministry," he continues. "There are so many examples of songs that legitimately are effecting people. 'Lead Me' blew the roof off of everything. Then we had 'Pray' and 'Forgiven.' All these songs came at a point in our career when we were more weary and tired than ever. It's a pretty great demonstration of how God makes His strength perfect in our weakness. Knowing the ammunition of this record makes us so excited to think about hearing the same kinds of stories from people whose lives are being changed."
As a band who has acknowledged, wrestled with and confronted the challenges of staying relevant—a killer live show, a relentless tour schedule, a fresh sound—Sanctus Real has sacrificed. Time away from family has been lonely; the hours have been grueling; the journey has been exhausting. But at the end of the day, it's a righteous fatigue. And one that God has been relieving one day at a time, one faithful step at a time, one new song at a time. Today, Matt, Mark, Chris, Jake Rye (bass) and Seth Huff (keys/guitar) are tested, tried and the wiser and more grateful for it.
"Things are so good right now," Matt affirms. "God has used so many things to put the winds back into our sails. This is the first season in a while when I felt really rested, ready, excited and confident. We're going to take a big step forward with this record. If it gets big sales, great! If it does well at radio, great! But that's not the most exciting stuff. We are trying every day to be the men who we say we are onstage. At the end of the day, I feel like God put this truth inside of me—I was born to write songs. We were born to make music that can touch deep inside someone's heart and start a change to bring him closer to Him. That's the most important thing. God and family. It's all about making Him the desire of your heart. That's living the dream."