From the very beginning, the members of MercyMe have worn their hearts on their sleeves. They have been transparently human, and in so doing, have impacted countless lives.
When they delivered the epic, "I Can Only Imagine," the church suddenly had permission to grieve and not hide feelings of sadness or doubt.
Their previous album, The Hurt & The Healer (2012) was a cornerstone in a long line of albums that never shied away from pain and didn't apologize for doubt. All That is Within Me (2007), Undone (2004) and Spoken For (2002) resonated, track after track, with … with truth. Not just "church talk," but truth.
In 2014, on the heels of The Hurt & The Healer, they're doing it again. This time, however, there's something different.
Something lighter.
Something…new.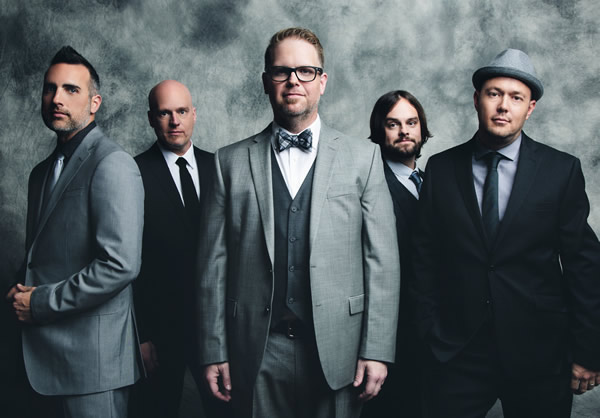 "The last album was about needing a full-blown collision with the healer when my family was hanging on by a thread. My cousin who was a firefighter died, and I wrote the title song in ten minutes in a concert arena, in tears," recalls lead singer and songwriter, Bart Millard. "I was thinking, 'Why do we go though this mess, this junk in our lives? Is there any chance that what I'm going though is not in vain?' Welcome to the New is the answer to that question. It's where we landed after the collision. And we didn't go through it in vain. I feel like the Gospel has come to life for the first time."
And he isn't alone. Everyone in the band seems to have removed a veil. They are more vibrant and awake than ever. Much of that began with Bart, who had reached a point in his life of nearly overwhelming difficulty and struggle. He had lost family members, his health was in jeopardy and the lingering shadows of his childhood loomed large.
"I grew up with a legalistic background, and even though it was all about grace, there were always three more things you could do to make life better," says Bart. "But of course, I'd do ten. I was an overachiever. That's why I started a band, feeling like I had to do more. I believed that if we weren't giving God our best, He wasn't happy with us.
His efforts not only proved to be in vain, but threatened the very life of the band as well as his relationships with God and other people. Just as he was ready to walk away from it all, an old friend emerged with a message that was as poignant as it was unexpected.
"'There is nothing in our life to make Christ love us any more than He does.' And I thought that was a novel concept, but I didn't buy it. I have a wretched heart, and I'm nothing without God," shares Bart. "But then my friend said, 'Because of the cross you are a brand new creation. You can't worry about the heart that can't be trusted. You have a brand new heart and mind in Christ.' And I thought, 'Wow, that's something I never heard growing up. There's no way I can sabotage this.'"
As Bart allowed that truth to seep from his consciousness all the way into his heart, God began revealing a new kind of freedom unlike any he had ever known. At the same time, a call from his doctor with news of high blood pressure and a myriad of potential health problems led to an operation. Bart underwent gastric bypass surgery and is now healthier than ever.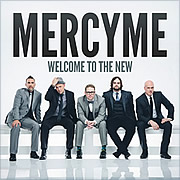 New look, new freedom, new music— Welcome to the New is a celebration of what God does in all of our lives if we let Him: redemption, sanctification, transformation.
"If there was one song that musically and spiritually represents the place where we are—the grace message of joy—'Greater' is it," Millard notes. "Bring your doubts, bring your fears / Bring your hurt, bring your tears / There'll be no condemnation here / You are holy, righteous and redeemed."
Redeemed and ready to celebrate, the single "Shake" is a party from beginning to end—as is the video. Imagine Bart and company leading an impromptu flash mob all around a quaint, fun town, throwing down moves that are as infectious as they are really good… (Who knew?)
"We thought it was a great way to kick off the record," Millard says. "It's a little bit of a departure from what we do." Actually, it was
a big departure for Millard when it came to showing off his moves for the music video. "I grew up Southern Baptist, which means I would be banished if I were to learn how to dance," he says, laughing. "But we figured that everyone has at least a good shimmy in them. Even my grandmother, she can shake it." And the theme of rebirth shows MercyMe putting its best foot forward: "Brand-new looks so good on you / So shake like you are changed."
Ever the modest ones, the band members profusely credit producers David Garcia and Ben Glover for helping them achieve the "new" sound, look and feel.
"This was our first time working with them, and fitting along the vein of being new, we tried it and just loved it," Millard says. "It's like they're an extension of MercyMe now. When you're in a band this long, it gets to the point where you get in the room with the guys and the same stuff comes out. We just wanted someone to stretch us."
From beginning to end, it's more than obvious that stretching has occurred. You might go so far as to say an outright demolition and rebuild has gone on. However, one thing has not changed. they always have, MercyMe, MercyMe continues to show their heart and extend an invitation for us to do the same.
To be sure, this isn't a band that went from a sad record to a happy record. This is a band that has done the work of faith. They have faced their questions, fears and doubts. They got messy. It hurt. But they did the work.
Welcome to the New is the outcome. Brimming with life, resonating with confidence, this is an album of godly men on an epic journey through this thing we call life. And for this season, they're scaling a mountain. Life is still messy and hard. There are still questions. But for the first time, their exposed, vulnerable hearts are allowing them to enjoy the view, enjoy their God and invite us to do the same.