by Matt Conner
This spring, Lecrae is breaking his silence. The chart-topping artist has felt the creative spark again after giving himself a reprieve from industry demands. Time with family and friends has given way to new perspectives and ideas, and the end result is lots of Lecrae to come in different mediums later this year.
For now, however, the artist is enjoying his role as architect. Lecrae has helped to pull together the Unashamed Forever Tour, a spring run of tour dates that features heavyweights like Andy Mineo, GAWVI, KB, Tedashii, and Trip Lee next to exciting young talents like 1K Phew and WHATUPRG.
We recently caught up with Lecrae to hear his take on the loaded tour and the other plates he's spinning in 2019.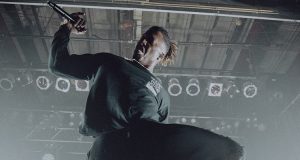 CCM: I want to talk about the tour, but I also saw the other day on Instagram that you're back in the studio. Can you give us an update on all that's happening for you musically?
Lecrae: Oh, yeah. For me, it always has to feel authentic and feel good. The energy from the guys, just talking to the fellas, sparked a lot of creativity. I took a lot of time off to just relax and be a dad and a husband and that energy got sparked. So I've been back in the studio crafting new music.
CCM: Is that without parameters at this point?
Lecrae: Yeah, I mean obviously I know the fans want something new. They're anticipating it. My last album was a bit of a lament with all things and I'm in a different headspace now. They're itching to see where I'm at and what's going on. I'm planning on finishing up and letting them taste some of the food before it's all done.
CCM: In so many interviews and quotes in the last couple years, you've discussed a new level creative freedom and the joy of pulling away from the expectations of people. Now that you're in that lane and beginning to make music again, what is that enabling you to do that you could not do in 2017 or 2015?
Lecrae: One, when you're under stress or you feel pressure, anxiety or depression, you're not particularly creative. You might be creating, but it's not the best you have to offer. I think going through all of that and pressing for freedom—and even though I'm making all of this music, I'm still coping with issues in so many different ways. When a lot of that was alleviated, I felt like God opened up a lot of new perspectives for me and some doors for me to see clearly. I found myself feeling very creative again. I was experimenting and making things that were rooted in joy and gladness. That's where I've been.
CCM: So it's a brighter musical and lyrical season for you?
Lecrae: Absolutely. I would say that hands down. It's also about knowing your place in culture and music. A firmer grasp on your identity allows you to feel at peace.
CCM: As you move through some of those stages of discovery, have there been artists further down the road from you who have played a role of importance to help you along the way?
Lecrae: Yes, both up close and from afar, like Kirk Franklin, who transitioned in so many unique ways and became very firm in who he was and what he wanted to do and the spot he played in music culture. Then there's Andre 3000 who just disappeared because he could. It's like, "Oh, I'm not a slave to this. I can create if I want to, but I can take a break if I can and that's okay." Even Kanye who allowed a lot of that pressure to melt him down and create a lot of mental distress. It's not wanting to go down that road. It's looking at those examples and learning to create from a healthier place.
CCM: The new tour includes some exciting young voices alongside some pillars of hip-hop. Is that part of the fun for you to speak into their lives in the same way we've been talking about?
Lecrae: Absolutely. I look at that 100 percent as a part of the joy of traveling with them. I get to share that wisdom and expertise and give guidance and wisdom. I allow them to ask as many questions as they want, pick my brain, share anything that I've learned. I love that. I love taking that role and responsibility. I've been an artist for a long time and now I get to be an architect. An architect is still an artist, but he's also designing pathways and passages for other people to travel through. That's what I get to do for these guys is design places and spaces for them to exist. I'm really grateful for that.
CCM: Do you enjoy those spaces on the same level?
Lecrae: I think in this season of my life, I really enjoy being the architect, because you realize that there's not a lot of people who do that. There are so many people who are hungry for the stage and the attention and to get what they want to say off their chest that they're not investing in other people. I wouldn't be here if people had not invested in me. They weren't all artists, but they invested in me. So I do enjoy shaping these fellas.
CCM: Was this a beast to schedule? With so many different schedules to align, it looks like it might have been difficult.
Lecrae: You know, you'd honestly think that, and I thought it'd be the case as well. Instead everyone was really excited to do it. As long as egos are in check and we don't feel like we're competing but complementing one another, I think that makes everyone excited to come together. So a lot of this has been done fluidly. It's not going to be these individuals doing their thing and disappearing. It's a lot of collaboration and collective work happening, so it really hasn't been stressful or difficult. It's been a real joy to put together.
CCM: Any one thing particular that has you most excited about the tour?
Lecrae: A lot of it is the future and the newness that we all have. There are new artists and new things happening. Then again there's also the nostalgia, since we haven't been on the road together in years. The nostalgia of that is like, "Wow, it's really happening." When we first started, there were parents bringing their kids to see us and now those kids are parents, It's just a wild thing to see happen, to see everyone able to come out and enjoy it.
CCM: What else is happening for you after the tour wraps?
Lecrae: I have a lot of things going on. I took a lot of time to hang with my family, but I've also been working on new music. I am working on a new book as well. Then I'm in a couple films, one of which called Breakthrough comes out in April. There's a few things I've been working on and I'm excited to do it all.