"Do you think you could write a song that makes it clear that everything is going to be all right? That not only are you going through a hard time, but that things can be awesome again?" The question, posed via a fan's MySpace message to Fireflight, struck a chord; it was something the band members were also wrestling with. Luckily, Fireflight more than fulfilled the fan's request.
Unbreakable. That's the hit song, the album's title and the new, pervasive theme found on the Florida-based hard rock band's sophomore effort. More importantly, it's the proper response to the quintet's debut, The Healing of Harms (Flicker).
"Really, the theme of the record is triumph," says vocalist Dawn Richardson. "Our first record was really full of emotion and was about trying to fight your way through circumstances. Now, the focus is not only facing your difficult circumstances, but being victorious over them. It's about living your life in victory over the things that used to control you. So the sound has not only matured, but also the theme. The last album was about struggle and finding hope in God. Now, it's about finding power in your life."
Of course, the band doesn't just pretend to know what it's talking about. Instead, the members come by this new perspective honestly—weathering pressures of the dreaded "sophomore slump," their front woman losing her voice and the absolutely exhausting schedule of a new band trying to establish its identity.
"On this second record, we were…afraid of the 'sophomore slump,'" laughs Richardson. "We had five years to write the first record and six months to write this one. We were very, very nervous."
"It was probably the most stressful year of our lives," agrees guitarist Justin Cox. "And within that, we played 100 to 150 shows. We also had traveling days in between. Plus, it's hard to write music on guitars when you're in a 15-passenger van with pretty bad suspension."
Not only was the band exhausted from an unrelenting tour schedule—alongside acts like Disciple and Pillar—and pressed to immediately write the next album, but the physical effects took a toll on Richardson. She mentioned that "something didn't feel right," which led her to a vocal coach. She began to learn new vocal techniques, but was still recommended to a doctor right before entering the studio for Unbreakable (Flicker).
"I was supposed to start on Monday, and I went in on a Friday," recalls Richardson. "He stuck a special camera down my throat and told me that I had blisters on my vocal cords. Basically, singers get things called nodules on their vocal cords that become calluses. These are the first steps to getting those. And once you have a nodule, you can't get rid of it without surgery. So this was very alarming. They told me I was not allowed to talk at all."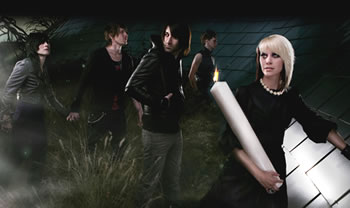 Over the next few months, Richardson could only sing her parts in the studio or perform onstage. In between she was literally not allowed to speak.
"The whole situation has been one of the most challenging times of my life. It's hard to not be able to talk at all and be away from home at the same time. We had tornadoes just down the street from my house, and I couldn't call my family. I had to have [bassist] Wendy [Drennen] call my family for me. It was a very difficult time."
Still, the band pulled through admirably despite all the obstacles, relying on the one thing they all agree has gotten them to where they are: the power of God.
"It actually worked to our advantage to have zero time to record; that really forced us to rely completely on God," explains Richardson. "We give God complete credit for this album being worth anything, because we had no time to put our two cents in. We're very glad for that."
"It really forced us to let go of our own desires to control the situation and wholly rely on God," adds Cox. "Honestly, I don't think anyone here believes this is any of our doing. We could not physically and mentally have done it without God."
Fireflight has found the hope to persevere both in the recording studio and also in the strength of one another. "I just think it's awesome what Dawn has been going through with this record and with her voice," says drummer Phee Shorb. "It's just taken an extraordinary amount of guts for her to sing in this new range…and to know right before she does that, she has serious problems with her voice. It's almost been allegoric. It's about overcoming and finding you can win against adversity with the power of God."
It's with this new level of confidence in God's plan that Fireflight is now emerging on a national level. NBC ordered the title track from Unbreakable for heavy promotion for its "Bionic Woman" series before the first single was even released to radio, lending Fireflight a visibility the band's never experienced.
"For me, it was something really cool just to give me confirmation that we were on the right track," notes Wendy Drennen. "It was humbling, because we knew we were not worthy to be so exposed, but we felt so honored at the same time."
For all the buzz and happenings, the band members still seem well-grounded. "Honestly, I've never seen the ["Bionic Woman"] spot since we don't have a TV in our house," explains guitarist Glenn Drennen, husband to Wendy. "We also don't have a rock radio station where we live. And with no TV, I've never personally seen or heard anything we've done on my own. It's great to hear about it from other people, though."
Perhaps more than anything else, it's the humility found within all five members of Fireflight that makes them unbreakable.
— Matt Conner is a freelance writer living in the Indianapolis area in all areas of pop culture and spirituality.