Sometimes it's easy to forget that the artists we appreciate here at CCM Magazine are also fans as well. It made us curious about the tastes and habits of various artists, so we decided to launch a series, The Last Time, to find out some answers.
This time around, we're excited to hear from Charles Billingsley, one of the finest vocalists you'll hear this side of heaven. His new album, Right Here, released on March 4, is packed with vertical reminders of the love and grace of God.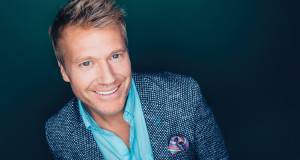 The last album you purchased?
Adele, 25
The last concert you paid to attend?
Stevie Wonder
The last TV show you binged watched?
Suits
The last book you finished?
Essentialism by Greg McKeown, and IF by Mark Batterson
The last time you were surprisingly moved by a piece of music?
Snowboarding in Colorado to Adele's "Water Under The Bridge"
The last great movie you watched?
The Revenant
The last time you laughed uncontrollably?
I honestly can't remember.
The last memorable exchange with a fan of your music?
On Sunday night when a lady named Melissa came to know Christ through my song "Right Here."