While preparing for my CCM Magazine interview with Building 429's lead singer Jason Roy, a friend told me of the  impact that their song, "Where I Belong," once had on her family. She described how her foster daughter used to belt out the lyrics from the back of the van—coincidentally, unsure if their child would remain with them, or have to return back to her home.
At that point in time, "Where I Belong" became that family's powerful anthem, and was a musical reminder of where they truly belonged.
For Roy, now sixteen years into fronting the band from Fayetteville, North Carolina, there have been many songs that have been both musically influential, and spiritually impactful. From his youth, he mentions that Geoff Moore and The Distance's song, "The Vow," helped shape him as a young Christian.
"As a kid, "The Vow" was a bit of a defiance cry for me," says Roy. "In a weird kind-of way, the church was my way of being defiant' it was the antithesis of the chaos that was in my life, so I loved the thought of standing in the midst of a crowd, alone, and saying 'I will be faithful.'"
Others, such as Steven Curtis Chapman's, "Free," and Audio Adrenaline's, "Ocean Floor," touched him in ways spoken words alone could not. Of "Ocean Floor," Roy says, "I truly began to believe that my sins were gone, and literally cast to the bottom of the ocean floor."
For many of us, including my friend and for Roy, Christian music has served as mile markers along the paths of our spiritual journeys. It stirred our souls, far beyond the capacity of bare words. We experienced the marriage of music and lyrics as it breathed life and fire into theological truths, propelling us forward in faith.
Building 429''s latest album, Unashamed (released September 25, 2015, Provident), contains a set of songs that are primed to fulfill this role. Holding true to the meaning of the band's namesake (inspired by Ephesians 4:29 ESV, Let no corrupting talk come out of your mouths, but only such as is good for building up, as fits the occasion, that it may give grace to those who hear.), the new album is rich with themes that are intended to walk right alongside the listener, encouraging their steps along the path.
Roy, who describes Building 429 as "aged, and wiser," and representing band mates Michael Anderson (drums), Aaron Branch (bass), and Jessie Garcia (guitars) says, "[Unashamed] is a story that we want to share in the hopes that it encourages people in the truth that the grace of God is sufficient—exactly what we need, for right where we are."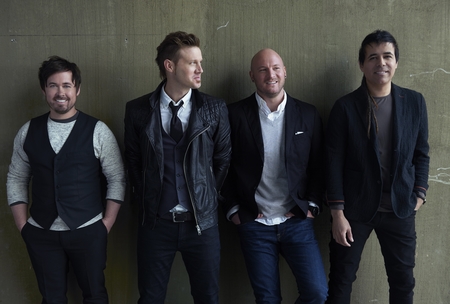 Much of the album, birthed from many late night conversations with colleagues and other fellow artists while traveling on the Winter Jam tour earlier this year, are "songs reflecting the raw honesty of seeking God in his word, waiting and watching for Him to move, and resting in His sufficient grace," describes Roy. Inspired by Romans 1 and standing firm on these ideas, the title song, "Unashamed," states: I've been down, I've been broken / But I believe what You've spoken / That You make all things new / I have witnessed Your mercy / Stood in awe of Your glory/ And none compare to You / I am unashamed, I won't hide Your name.
And, as far as intentions are concerned, Roy adds, "Our last record (2013's We Won't Be Shaken, Provident) was more about where we wanted to be in our spiritual life, where Unashamed is more about what life is like for us right now, messiness and all.
"As believers, we need to be honest about what is going on in our lives. We can't hide behind false-selves and pretend that life is wonderful, when clearly it is not," states Roy. "In fact," he adds, "We can't tell others about what Christ has done for us, without also revealing how He has worked through the mess in our lives."
Admitting that the song was written out of personal heartache, "Be With Us Now," featured on Unashamed, is a track that supports Roy's claims for the new album: It's hard to understand this life we're living / More down than up, more lost than found these days / And everybody's searching for the reasons / The pain, the shame, it just won't go away / If there's a miracle in Your plan / It's that we know we are in Your hands / Even when we don't understand/ Be with us now, be with us now.
"I believe that the message of the gospel is incomplete apart from the real stories of God's work in our lives. The more we hide or put up facades, the more we inhibit the gospel message," says Roy.
Continuing the sentiments along the story line that is their new album Unashamed, "Ocean Deep" reflects a desire to rest in the steadfast love and grace of Christ: It's more than I deserve / Before I've said a word / You know all of my fears / Every tear I will ever cry / And You keep reaching out / Far beyond my doubt / When I see all that You've done, I'm overcome / But Your mercy is an ocean deep / Your grace is washing over me / Your love is like a wildfire chasing after me.
With the impact that a memorable song can have on the soul still fresh on his mind, Roy turned his attention back to the album's themes of encouragement. "Don't ever get stuck in a rut and lose perspective," he says. "These times in our lives that feel like desert wanderings are often the times when God is preparing us to be used."
Like reminiscing on a memory, perhaps one triggered by a favorite song, Roy says, "Think on your past and the ways God has moved in your life, [use those memories] as confidence to what He will do in the present. Oftentimes, the mountain that is in our way is just a door by which God will use to walk through and prove Himself faithful."
This truth is reflected in their new song "Eyes Up:" All your broken and all your mess / Lay it in the hands of His faithfulness / Every mountain seems so high / You're gonna see it from the other side / How big a God we really have / His love is deeper than the ocean, ocean wide.
"Impossible," reaches further into the trenches in which we can find ourselves, and pleads to the doubter: We can rise above the typical / And be anything but usual / We know / That there's no such thing as impossible / And nothing is unreachable / When we trust the God of miracles / We know, we know / That there's no such thing as impossible.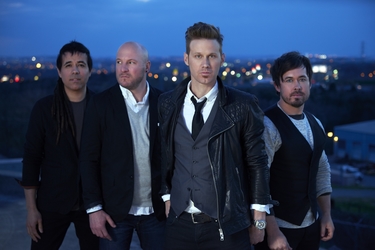 "Look to Christ, live as He lived, and love others as He loves them," professes Roy, "We''ll make a greater impact in this world."
"Earth Shaker," from Unashamed: Your love and Your life / Will be the change, will be the light / With Your name lifted up high / We''ll be the change, we''ll be the light. "Evil will not win. If we believe what we say we believe, we should be living lives in assurance of that fact."
Just like the smell of baking cookies can instantly place us back in our grandmother's kitchen, hearing a song can conjure memories as fresh and real as though they happened yesterday. For this reason, music can be an integral part of our personal histories. As believers, it has the power to become part of our journey's story.
Perhaps, one or more of the songs from Unashamed will become a part of your spiritual history?
"Where words fail, music speaks." —Hans Christian Anderson