His journey of rediscovery that paved the road to No Turning Back
Brandon Heath had to look back to move ahead.
Faced with making another full-length record, his first since 2012's Blue Mountain, the Nashville born-and-bred pop artist was uncertain where he was heading. Motivation was lacking. Revelation was nowhere to be found. For a celebrated artist who's been nominated for five GRAMMY Awards and won several Doves, the pressure was on for Heath to record something. Unfortunately, progress wasn't being made until a friend asked him to take a look back.
"About eight months ago, I was meeting with my friend, Ed Cash, as I was trying to figure out what the next record was going to be about," he said. "The last album, Blue Mountain, was one of my favorite creative approaches I'd ever taken to making a record and I wanted to do that again this time, but I didn't want to dive back into Americana per se.
"Ed and I have known each other a long time, through Young Life actually, but we'd never done a record together," he continued. "I was looking for inspiration and I'd felt uninspired for a while and then he said, 'You need to pray the prayer for God to restore to you the joy of your salvation.' I started to think about that because I wasn't feeling a lot of joy at the time. Then I started to remember back in 1995, which was the summer that I went to Young Life camp."
It turns out that the Young Life connection between Cash and Heath was much more than a timely moment of insight. Cash's encouragement was eventually the catalyst for inspiring an entire new project — the forthcoming No Turning Back — which is steeped in their experiences in Young Life as teenagers through Heath's ongoing work in supplying the parachurch's organization with fresh songs today.
"I grew up in Nashville but did not really grow up in the church," said Heath. "I didn't have my own faith. I would go to church with my grandparents once every three months or so, and I was too young to understand what was being talked about. It all really started when I went to that camp in the summer of 1995 — that's where I found my own faith."
Heath's moment occurred peculiarly — on a Frisbee golf course of all places — but provided unexpected insights on the beauty of and need for forgiveness.
"I was struggling a lot with my own dad," he recalled "We weren't getting along very well, and there was some stuff I needed to work through and forgive. I didn't know how to do that. I felt he didn't deserve it, but that summer at camp, I found out that I didn't deserve forgiveness either, but Jesus had already given it to me. That really challenged my beliefs and my pride.
"So I started to pay more attention to the life of Christ and on the ninth hole of this Frisbee golf course, I gave my life to Him. It didn't seem like anything was different, in the moment, but I can see now there are twenty years that have gone by where everything has been different from that point. So it takes a little time. Thinking back on all of that brought me a lot of joy about the decision that I had made and how my life had changed—the reflections of that time fostered the creative energy that I needed to write a new record."
LIFELONG IMPACT
Heath says he's always been a bit too serious, a kid who was never really a kid for too long, but rather someone who has always considered the deeper aspects of life. His ability to take a mature approach to a faith decision is part of what has allowed him to continue on the course set in his adolescence, perhaps even as others made such a decision due to emotions or familial pressures.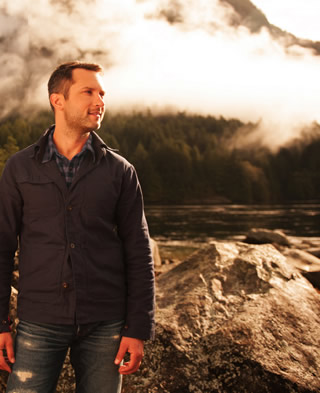 "I didn't grow up in the church, but a lot of people do," he said. "When they make their decision, it can get wrapped up in the culture or the family made their decision for them or maybe it was a decision based on emotion, which happens a lot. I've always been an old soul. When I was in high school, I probably pontificated on pretty mature things. There's part of me that wishes I would have been a kid rather than such a deep thinker, but that's how God made me and I grew up pretty quickly."
Even more than a sophisticated mindset, Heath points out the helpful structure of Young Life that challenged his relationship with Christ to new levels.
"One of the things that's really cool about what they do is that when we go to camp, we go with our leaders who live in our town," said Heath. "They go with us and they're with us to talk about the gospel throughout the week. Then after we're back home, if we've made a decision, they continue to be readily available to us. I have to give my own Young Life leaders a lot of credit. They immediately got me into a Bible study, and I started going to church with them. They looked after me even after I made that decision. It's not like I made a decision and came home from camp and never saw the people associated with it ever again. They were with me."
Young Life has served as much more than just the starting line for his faith. Heath says it also gave birth to his musical career. Heath's first gig, as best as he could recall, was a house concert for Young Life in which said teens "piled in the backyard" along the waterfront for a show that stoked the flames to play for others. Later on, it was Young Life alum Bob Goff, author of the best-selling book Love Does, who challenged Heath to figure out his career path at another Young Life camp.
"A big reason I made music is because of a guy named Bob Goff," said Heath. "Bob was visiting regularly over the summer — I think it was the summer of 2002—and we sat down on a bench there in Malibu. He asked me what my dream was and I didn't know how to answer it. It took me three years to answer that question. As soon as I did — I think it was a few months later — I was signing my record deal on his dining room table in San Diego."
Interestingly enough, Young Life remains with Heath even today. Heath regularly plays at Young Life events, helps to raise funds and awareness for the ministry, and even supports annual scholarships for local kids to be able attend summer camp. He's also part of the Nashville Nine, a group of musicians of which Ed Cash is also a part, who come together to write songs for Young Life clubs and camps without any sort of personal gain from the endeavor.
"Last year, we all got together at Ed's and wrote songs that they can sing at camp," said Heath. "We gave away our publishing on it. It was really just for them to use, and I loved writing songs for these people. I loved writing songs that were just for worship with nothing to gain from it. There's no professional part of it. It was so good to write like that."
LET THE REDEEMED SAY SO
The first single from No Turning Back is a title track that comes with a familiar focus. Written with David Leonard and Leslie Jordan of All Sons and Daughters, Heath went into the co-writing session with the goal of remembering what Young Life refers to as a "say so" moment.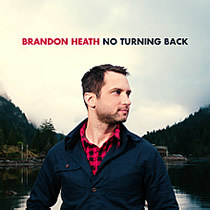 "The song 'No Turning Back' is based on the old hymn, 'I Have Decided To Follow Jesus,' and it came out of a conversation with David and Leslie," he said. "I wanted to write a song about the moment I stood in front of everybody at camp and said, 'I've made a decision to live my life this way.' There's a thing at camp called 'say so' from Psalm 107 where it says, 'Let the redeemed of the Lord say so.' It's at the end of the week and we physically stand before everyone to make a proclamation. The purpose to unashamedly let everyone know that we had made some type of decision during camp to follow Jesus.
"So David brought up that old hymn and I thought 'how cool it would be for us to redo an old hymn that everybody knows?,'" he continued. "I know it happens every once in a while on Christian radio, and I thought it would be fun to write a song they could sing at Young Life camp, too. That was it. It came quickly. I think it took us forty five minutes to write it."
Not every song on No Turning Back is based upon that specific moment, but Heath said everything on the album points back to that experience in some way or another. It's a package of songs inspired by the beginning and continuation of a faith journey that has changed Heath into a new man.
"I know that I have to write a project about something that is substantial and sustainable — something that's true to the core of who I am and who I'm passionate about. This is one of those projects for me. This was the defining moment of my life, so it's not something I'm ever going to get tired of talking about."