Best of 2013: The stories and songs that landed on CCM covers and in hearts around the world
With 2014 on the horizon, it's time to look back at the year that was. Marked by homecomings, perseverance, reunions and, of course, great music, 2013 saw artists stepping up and stepping out more boldly than ever with the truth and a song. CCM reviewed the stories that made covers and pulled the best of what your favorite artists had to say throughout the year. Inspiring, transparent, passionate…they share their passion with you. Merry Christmas and Happy New Year!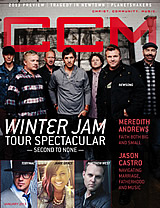 JANUARY
In 2013, Winter Jam maintained its position as the top tour worldwide for quarter one. Founded by Newsong, the tour has grown continuously over its nearly 20 year run and maintains a unique and intentional focus on ministry, support and follow up with those who make decisions for Christ.
"It's God's tour. This isn't Newsong's tour. This makes no sense." – Eddie Carswell (Newsong)
"We wanted to pull together the best of what all of us have to go from a live experience to getting them connected with God's word and God's people. In fact, kids who responded last January are still being encouraged through texts and other ways now."
Click here to read the full story!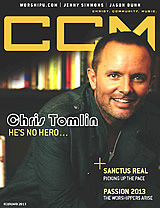 FEBRUARY
It's difficult to put into words the impact Chris Tomlin has had on the church and the culture of worship throughout the world. His latest album, Burning Lights, showcased Tomlin's signature knack for crafting congregational songs, while pushing the boundaries, artistically, more than ever. Read the full story here.
"I think people might think I have a special connection to God, but I'm no hero. Obviously King David was out watching over his sheep, singing and pouring out to God long before he's given a platform. And even when you have it, you're still just a shepherd boy, singing a song to God. To the people reading this, you are the burning lights. I'm hoping to sing over the people a song that will lift them up. There's something special about music.
"There's power in our words. What we're speaking into our lives reflects what we believe about God. That's all through scripture. Praise the Lord, oh my soul. David is telling us to rise up and praise."
Click here to read the full story!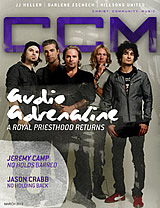 MARCH
Generally, when a band makes a comeback, it has something to do with personal or financial interest and, more often that not, is a shadow of its former self. Not so with Audio Adrenaline. With new lead vocalist Kevin Max at the helm, Audio A has been crystal clear about their motivation to return. Drawn to the plight of orphans, the profit earned by the band will go directly into their Hands and Feet Organization which has been on the ground in Haiti for years and is the heartbeat of the band. Read more about their big return here!
Boys become kings, girls will be queens
Wrapped in Your majesty
When we love, when we love the least of these
– Audio Adrenaline
"Mark and I poured ourselves into the Hands and Feet Project. It's really our legacy. We have 100 kids we're taking care of now, but there are still over 800,000 to a million kids not being helped. It's really all about anything we can do to bring awareness to the need and the plight." – Will McGinniss
"People are saying it's great to have me back. I never left! It wasn't just starting the band again. It was linked to something that had a much bigger idea behind it…helping orphans." – Kevin Max
"The Hands and Feet project is a huge passion of ours. The mission of the project is to care for the orphans of Haiti and to inspire people to serve along with us. Our vision is to raise these forgotten children in Christ-centered families," he continues. "And give each child the opportunity to reach their God-given potential. Currently we are at capacity, but are in the process of doubling the sizes of our Children's Villages. The rebirth of Audio A plays an invaluable role in helping us tell the story of the orphans of Haiti." — Mark Stuart
Click here to read the full story!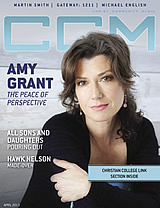 APRIL
It's practically a fact that Amy Grant is and has been the face of Contemporary Christian music for over 30 years. Her writing, her voice, her bold decisions raised the bar in Christian music and put it on the map in mainstream culture. As she pulled together her latest studio album, she did so with the depth and wisdom and artistry that can only develop over time. Inspired by the life of her mother, as well as a renewed intentionality about her music and life, Amy's ministry is as poignant and relative as ever.
"When you get on stage, sing something that matters." – Gloria Grant (Amy Grant's mother)
"There are so many life truths I've learned from my mother that I've tried to put gracefully into songs," shares Amy. I think it's important to take stock of your life every so often," Amy says. "Primary relationships, physical well-being, relationship with money, with our mate, with God…it's important to look at those things every couple of years and say, 'If there were no limitations, this is how I would like to be.' Say them. Write them down in a way that's anticipatory.
"What we say is so powerful," she continues. "Years ago, I wrote down that I wanted to be a good cook, be more healthy, have a garden… I had to take the steps to say those things. No one else is going to take time to do that. You have to take time to speak yourself in a direction; it's almost like reminding yourself of who you are."
Click here to read the full story!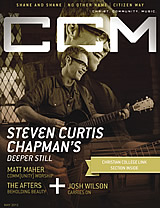 MAY
Steven Curtis Chapman represents the best of what Christian music is all about — authenticity, humility, worship and musicianship. Possessing both longevity and innovation, he has managed to grow with the changing musical landscape and connect with the world in their own language. His Deep Roots album shared his personal heritage, honoring the music and the family that has undergirded his entire ministry and career. He shares his reflections on the album and the gift of making music.
"If I could only sing one song for the rest of my life, it would be 'My Redeemer is Faithful and True,'" he shares. "This is the one thing I know to be true. God has been faithful, God has been true."
"'Cinderella' was a personal request from Cracker Barrel," he shares. "I didn't know if it fit, but I had always wanted to do an acoustic version. I haven't recorded it since Maria went to heaven, but I sing the last line differently now. I knew if there were ever an appropriate time to record it this way, this would be the time to do it."
"This year is a time to go deeper," he affirms "This feels like a new season."
Click here to read the full story!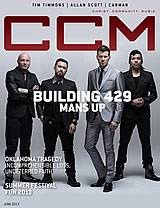 JUNE
They call themselves a 14-year overnight success story. Building 429 has traversed the country and the world throughout its run in the land of CCM. When they released the epic song, "Where I Belong," they allowed the country to get to know them all over again. Their follow up record, We Won't Be Shaken, sits in that same sweet pocket of transparency, while providing a rallying cry of hope and inspiration to listeners and fans world wide.
We're not talking about David the shepherd; we're talking about David the King," says front man Jason Roy. "This is not Saul. This is Paul. We are more than conquerors and as such we should be leading the way."
"We all make mistakes and fall short," Jason says. "If I stand, it's only because I've been in His hands. If men would step back up, including myself, we'd see families change."
Keenly aware of the impact family can have on your life, heart and well-being, the guys in Building 429 are cognizantly choosing each day to model themselves after their heavenly father, rather than an earthly father, whose very humanity means he will mess up.
"You have a choice," he says. "You can't say, 'I am who I am because my dad wasn't good enough.' You can either be who your father was or learn from it. You have a choice to love or hate and continue to remember that our past isn't meant to be a burden; it's our testimony."
Click here to read the full story!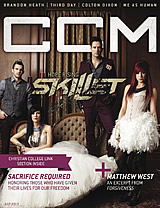 JULY
You might say Skillet stands alone in their unprecedented capacity to serve both mainstream and Christian audiences. Fes bands have enjoyed the success in regards to a loyal following and an unapologetic, yet subtle dissemination of the love and truth of Jesus Christ with audiences of every creed, culture and conviction. Rise was a pinnacle release for them. It reminded audiences around the world that they are not only amazing musicians; they see the world beyond the church and have allowed the truth of culture inform the messages of hope they craft through their songs which not only have the potential to reach every corner of the globe; they are reaching every corner of the globe…and the fruit is thriving.
"We were about to go out on tour with a secular band. Two weeks before the tour started, the lead singer's brother, who was a part of the crew, probably took some drugs before jumping out a hotel window," John shares. "Later, my daughter came up to the lead singer and told him we were praying for him. I didn't really have to talk to him about Jesus for him to her the message of Jesus."
And that's the heart of Skillet…honoring God with their talents and then stepping out of the spotlight to let the Holy Spirit do its thing, which includes bringing circumstances into the lives of the band members to serve as muse for the music.
"You've got to write from your own experiences," John continues. "What you're going through; what you feel. For instance, the Boston bombings, September 11…you feel shock and horror and just get sick of it and want to do something about it."
"Rise is the story of your typical American teenager coming into adulthood and being bombarded with terrible things like war, bombings, violence, floods, earthquakes, tsunamis and just a fear of the world in general," John explains. "Also inward struggles…struggles with parents, bullying, feeling overwhelmed by all these struggles. Eventually, the teen realizes he can't control or really change anything, not even his present life. But when he reaches out to God, his life can be part of something significant. That's what Rise is about. You alone can't overcome the world and it's horror. God gives you reason and meaning and helps you forgive yourself. It's a rallying record. We are encouraging everyone to join us and rise above these chains."
Click here to read the full story!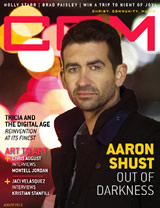 AUGUST
Aaron Shust first captured the attention of the church with "My Savior, My God." Since then, this father and husband has walked a journey no parent should have to — two of his children have faced life-threatening illnesses. Throughout the hardship, Aaron has maintained a resolve in the sovereignty and purpose of Christ and His plan. And when darkness descended time after time, Aaron fought the adversity with the sword of spirit and truth.
"Whenever things would happen and I would get a phone call, I thought there was no way we could handle one more thing," says Aaron. "But whenever something happened, I would tweet scripture. God has given me a platform and every time Satan wants to meddle, lots of people are going to be reading the Word of God. I responded with anger towards the enemy. He is the one trying to be the accuser of our souls."
Those difficult days do come and they are sobering moments," Aaron says. "The progression of life teaches you to not be selfish. God has a plan to chip away our selfishness. Even when things don't go the way we would desire, God has something amazing in mind for His creation. At some point we'll look back and thank Him for the platform we have."
Click here to read the full story!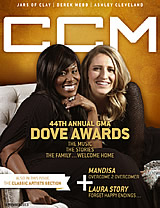 SEPTEMBER
The Dove Awards have been dubbed Christian music's biggest night. And for 44 years, they have represented the pinnacle of success in this industry. The past several years, however, have cast a shadow on the music industry overall, and events like the Doves have suffered. This year, however, the Doves returned to their home city of Nashville, Tenn., with a refreshing element of intentionality, humility and gratitude.
"The future of the GMA lies in the hands of our community," says GMA Executive Director Jackie Patillo. "As long as there is a thriving body of believers who have the same mission, there will be a need for the GMA. This past year has been about the task of assessing how the foundation needs to be re-laid. I believe that together we are going to move forward as a united front in a way that will allow the GMA to be relevant and serve the Christian and Gospel music communities.
"The Dove Awards have long been a time for Christian music to come together under one umbrella and celebrate," says Jackie. "God gave me a scripture regarding this event: 'Let your light shine before others so they may see your good works and glorify your Father in heaven.'"
Click here to read the full story!
"If you know me at all, you know that what God did thru the song 'Blessings' is so much bigger than some yahoo like me could ever make happen, and I love that about God! He calls us to be part of something bigger than ourselves. 'Blessings' was more an adventure God called me to be part of, and I will be forever grateful for that," she says.
Click here to read the full story!
We are so different from each other!" Mandisa says with her mega-watt smile. "Glam and granola, bling and Birkenstocks. And when we met two years ago, it was an instant friendship. That's the body of Christ! We're called to unity — not uniformity."
Click here to read the full story!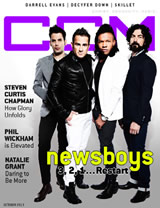 OCTOBER
A few years ago, they were Born Again. This year, the newsboys have hit Restart — literally. Their latest studio recording is a work of seasoned veterans. Relevant both sonically and lyrically, this is the kind of album that explains the group's longevity and reach, while demonstrating that the band is as sharp, creative and passionate as ever.
"It sounds crazy coming from guys who have been doing this as long as we have, but it feels like as a band, as an entity, we're really just getting started," says drummer and veteran member Duncan Phillips. "It seems like all the previous records have been building up to this moment right here. This is unequivocally the finest record I've ever been a part of."
"Sometimes in life, you fall down and you lose your way," says Michael. "Just like on a computer, sometimes it messes up and you have to reboot. That's how it is in life. You have to go back to the basics."
"I have not felt this way about anything I've been involved in musically since, 'Jesus Freak.'"
Click here to read the full story!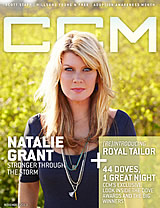 NOVEMBER
Natalie Grant is a woman's woman. The mother of three exudes vitality, joy and purpose…while allowing herself the transparency that puts others at ease and offers hope to those who are struggling. For 20 months, she westled with post-partum depression that nearly robbed her of that joy. After a time of contemplation and surrender, Natalie has come through the storm and shares the journey and the promise of tomorrow in her most personal album to date, Hurricane.
"All of us struggle with insecurities," she says. "What we hear from culture or friends and family tries to define who we are even though those messages are so full of lies. It's time for us to rediscover who God says we are. The promises of God have no expiration date. As women really begin to digest the truth of who we are in Christ, we will change the communities and change the world."
"It's still chaos and one day at a time," she says. "I'm trying to not worry about tomorrow. I'm going to do my best to love and balance. And tomorrow, I'll wake up and try all over again. Chaos, doubt, fear, inadequacies are still there, but my hope is reignited like never before. I serve a God who knows my name. Who gave me my career and husband and non-profit. Who must have a lot of faith in me…I'm going to embrace who God is calling me to be."
Click here to read the full story!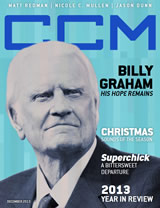 DECEMBER
On November 7, Reverend Billy Graham celebrated his 95th birthday, while communities around the world honored his legacy and his ministry. My Hope, his most recent book, is somewhat of an epilogue to his 70 years of preaching. An album of the same name, including Michael W. Smith, Matthew West, Tommy Coomes and others, is a sonic celebration of his life and moreso, of the God whom he served with selflessness…
"My hope is that the message your have read in this book will drive you to God's Book, which holds the key to hope for tomorrow — eternal life — and that you will the certainty of knowing that your future will be secure in the promises of eternal hope found only in the Lord and Savior Jesus Christ."
I will hear Him call my name not because I have preached for more than 70 yers. Not because I have doe anything good. I will hear my name because His sheep hear His voice (John 10:27). – Excerpt from My Hope, Billy Graham, Thomas Nelson, pp.176-177, 2013.
Click here to read the full story!