Seven albums in, Flame is still setting fire to hip-hop charts with his new release, Royal Flush.
Few artists can lay claim to the longevity and platform enjoyed by Flame, the celebrated rapper out of St. Louis. It's a testament to Flame's talent and focused vision to share the hope of the gospel. In short, it's his heart that keeps him going.
The good news is that the soil is ripe for a hip-hop artist like Flame to speak about spiritual things. Mainstream hip-hop releases are littered with gospel references, like Kanye West's Yeezus. Flame believes it's the ideal climate for an album like Royal Flush.
"The albums that are selling the most have something to do with God or Christ or Christianity," says Flame. "So I get to say, 'Hey, you're talking about Christ. You're talking about Christianity. Let me introduce you to it in its totality.'"
It doesn't hurt that the emcee is at the top of his game. Flame has always been celebrated across the board with Grammy, Stellar and Dove Award nominations; but with compelling tracks like the hopeful "Start Over (feat. NF)" and the gospel-centered "Believe," Royal Flush is truly a rare album that mixes deeper theological subject matter with dynamic compositions.
"Honestly, I feel like this is probably some of my best work," he says. "Actually, I wouldn't even say 'probably.' With every album, you want to reinvent yourself but not lose yourself. You never want to go so far in another direction where it's like, 'What happened to Flame? He's weird now.' But you also don't want to remain the same where they feel like they're not getting anything unique from this particular project."
Flame believes the poker metaphor found in the album's title gives him a proper point of entry into meaningful conversations with both Christians and non-Christians. Given Flame's commitment to presenting a message of hope, Royal Flush is a winning image with which anyone can relate.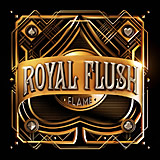 "The metaphor for Royal Flush is saying that God has given us the highest hand," says Flame. "In poker, if you're dealt a royal flush, it's the highest hand you can be dealt.
"The Christian has been set up to win over sin, over death, over trials, over temptations from the work that Christ has done on the cross. I get to say, 'I know the hand that you've been dealt. You can be re-dealt the highest hand. You can receive the royal flush from God.' It's a metaphor I think will resonate and, on the front end, won't turn the non-Christian off and will pique the interest."
After landing near the top of the charts during release week, it's clear everyone was ready for Flame to deal another hand. Fortunately, Royal Flush is a winning hand for everyone.