by Matt Conner
Mikey Howard says the loss of Eric Van Zant removed a "strong pillar" from the music and ministry of 7eventh Time Down. When bandmates have played together for 13 or so years, there's no way to avoid the feeling of loss when such changes have been made.
At the same time, both sides have also clearly felt the hand and provision of God as Eric has shifted his musical focus to a solo career. We recently had the chance to sit down with the longtime guitarist for 7TD to hear about making music under his own name and the emotions of leaving a successful Christian music band after so many years.
CCM: How long have you felt some sort of pull toward a solo career? Does that thread go back pretty far?
Eric Van Zant: I've always been a creative. My heart and soul as an artist have always been at home in guitar-driven, raw songs of faith since I gave my heart to the Lord at age 13 and discovered southern blues music shortly after. I've always dreamed of making music the way I'm doing it now: unfiltered, hardwired straight from my soul as a believer. I'm playing, singing, and delivering the song exactly as God delivers it to me.
My time with the guys will always be dear to me but there have always been songs and music in my heart personally, aside from the band, that needed to be addressed. In a sense I'm starting over, but this is nothing new for me. I'm just letting people hear it now.
CCM: Does this mean that you've been saving some songs in your back pocket, so to speak, for quite some time?
Eric: I would say that I've been storing up ideas both lyrically and musically for longer than I can remember. I've got a bag full of instrumentals that I would record when I would come off of the road. I've just recently within the past 3 or 4 years started figuring out who I was as a songwriter, lyrically, and really surrendering to being true to myself and the songs God is placing in my heart.
CCM: You mentioned the excitement of being able to make music as you want in so many words, but are there some nerves here as well?
Eric: Yes and no. I'm at home on the stage and in the studio with a guitar around my neck, but accepting the label of "an artist", and stepping up to the microphone as "the singer" has a bit of a learning curve to it, but I'm having fun with it. Being unfiltered and vulnerable with lyrics can also be intimidating as well, but I think people have to believe what you're singing about, I think they can tell, and I think they appreciate and respond to an honest lyric.
CCM: What was it like to approach the guys with news that you were feeling called toward something new?
Eric: I think the end of any season in life is bittersweet to some degree, and nearly 13 years is a lot of life lived with three other people, but it was as smooth of a transition as I could've imagined. I don't think anyone was caught off guard, really. These things have a way of revealing themselves—probably just the Holy Spirit preparing our hearts. He does stuff like that.
There weren't a whole lot of tears or any big party—just some genuine hugs like every other day for the past decade. We encouraged each other to keep chasing Jesus; I gave the guys my most genuine blessing and they returned it. I'm so grateful for God's abiding, complete peace throughout the transition.
CCM: When you look at your tenure with the band, is there a single thing, event or award of which you're most proud?
Eric: I met my bride out on the road while on tour so that's obviously one of the biggest events of my time with the band that I'm most grateful for. Also we were able to tour in the Philippines and visit some areas of severe poverty. I'll always remember feeling the tangible presence of the Lord while we gave food to the children there.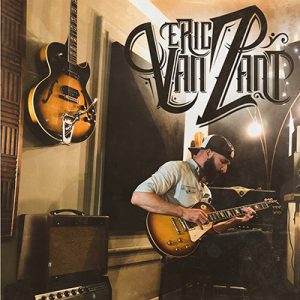 CCM: What is the plan going forward this year? A lot of tour dates? Other projects?
Eric: I released my first EP last October and the response was humbling. I just went back into the studio last week to start my first full length project and I don't know how I could be more excited to get these songs recorded. Hoping to release a full record in the coming months. Being an independent artist gives me the freedom to release as much music as I choose, as often as I choose, so the plan is to just put out some music, and then put out some more music, and then some more. I love playing live, so touring as much as possible is also in the plan.